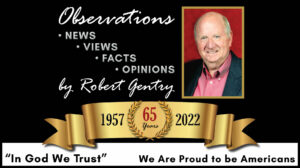 Wednesday, May 31, 2023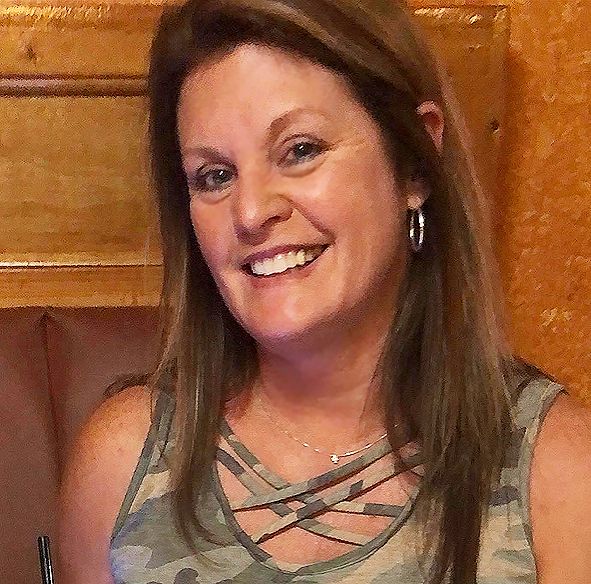 Sabine Parish Clerk of Court Shelly Salter announced that she will seek re-election on Tedd Dumas' popular "Open Line" radio program Monday morning. She is completing her first term as Clerk but has been an employee of the Clerk's Office for 32 years. Her present term will end June 30, 2024.
She is a native of Florien and was graduated from Florien High School.
Ms. Salter pointed out that when she first took office, it was trying times in that Covid-19 hit, and the Judge at the time ordered her office to be closed. In addition, there were hurricanes that impacted the operations of her office, and there was a leak that went undiscovered for months that caused water to go into the records vault. She said while some records got wet, those affected were able to be dried, and none were lost.
She said how proud she is of her staff, which includes nine full time employees and one part-time. Ongoing training, she stated, is very important not only for her, but for the staff. Ms. Salter said between 380 and 400 documents are filed in the Clerk's Office each month. She said the filings in the Clerk's Office continue to grow in number.
She said an important priority since taking office continues to be digitization of all records, which allows users to easily access documents without having to physically visit the Sabine Parish Courthouse.  She reported that her staff is steadily gaining on that goal.
During the broadcast, Ms. Salter also discussed things she wanted to accomplish when she first took office, which are being completed, as well as her long-term vision.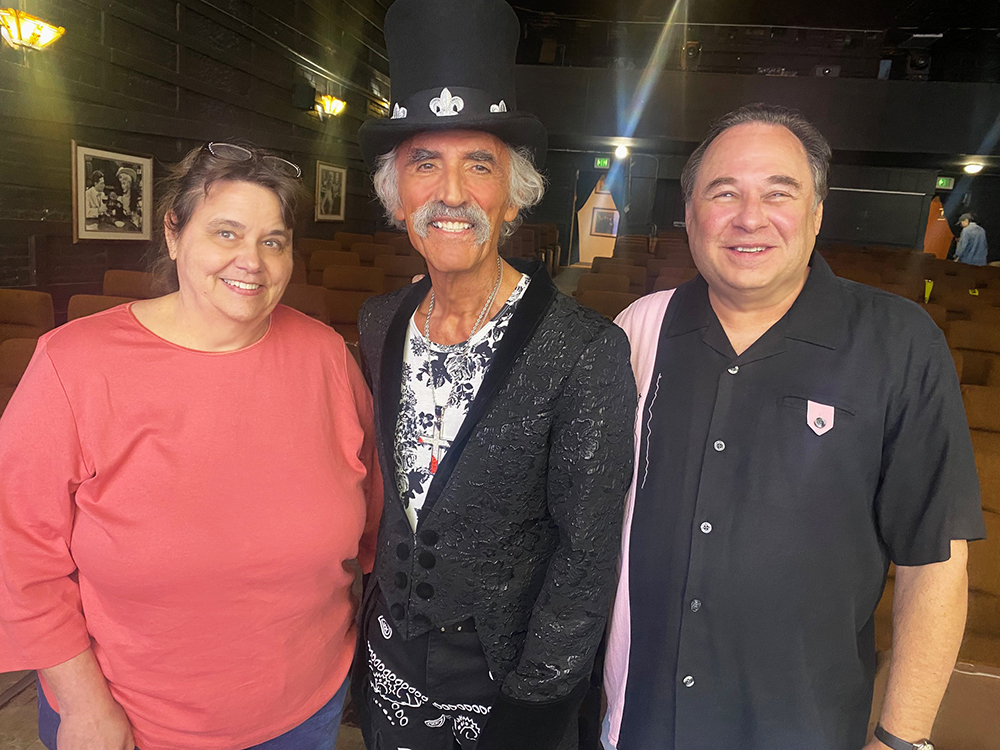 A nice crowd attended Michael Kuk's performance of "Three Days in Ferriday," a tribute to the death and funeral of Rock 'n Roll legend Jerry Lee Lewis, held Saturday night, May 27, at the Sabine Theater in Many. In attendance were Larry Anderson and his wife Lois of Shreveport. They are great fans of the music of Jerry Lee Lewis and saw him in concert more than 100 times. Ms. Anderson is a pharmacist and at one time was a member of the Louisiana Board of Pharmacy.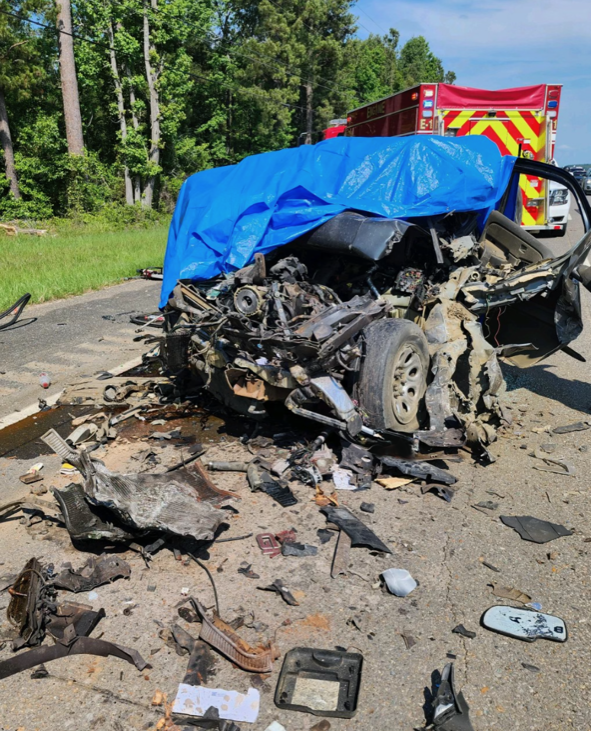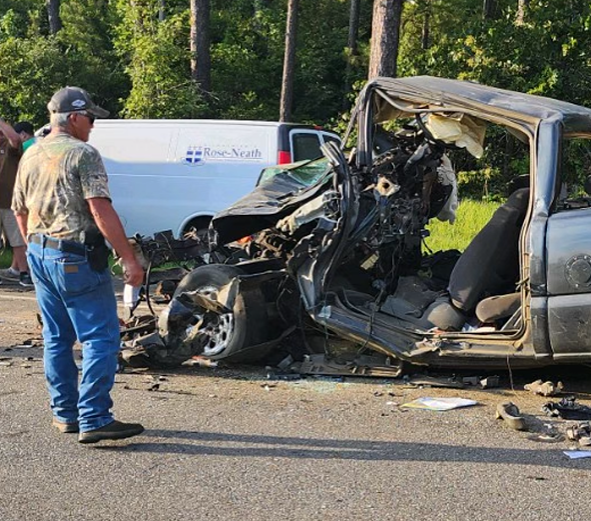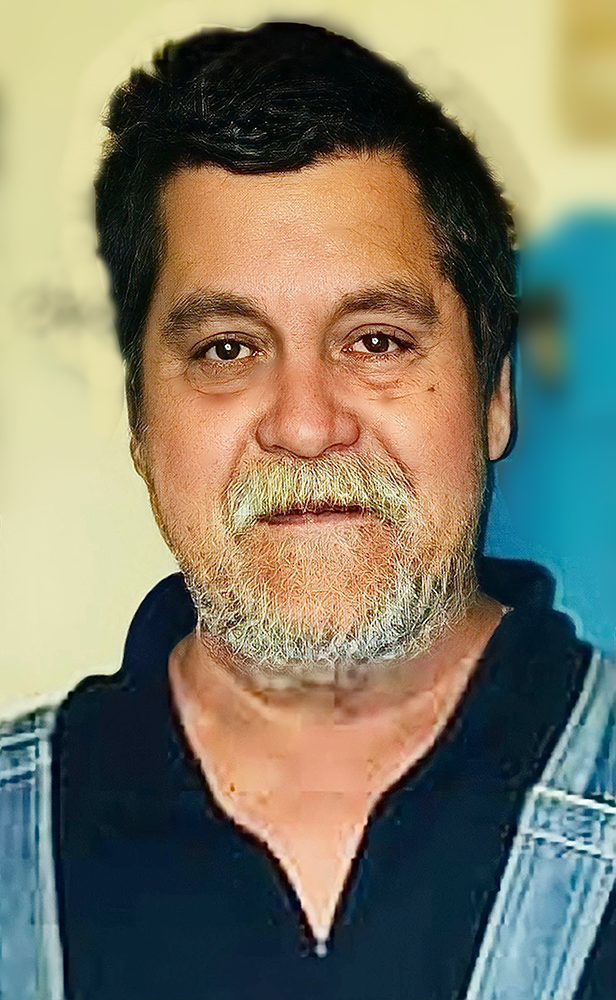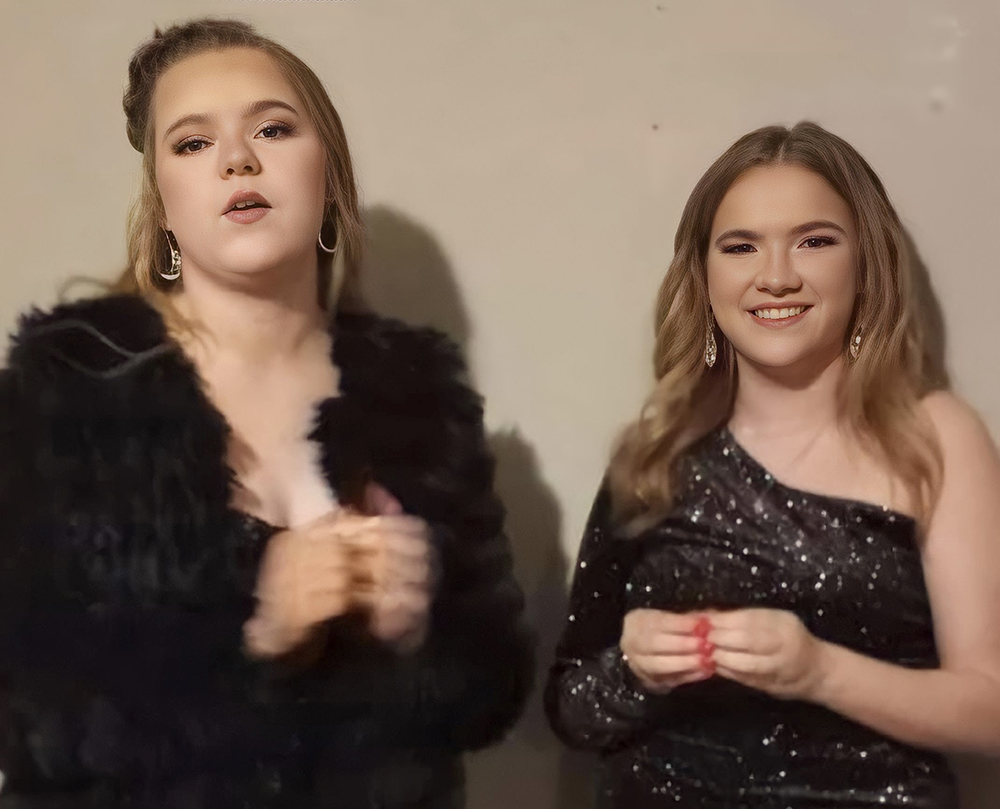 At about 3:45 p.m. Wednesday, May 24, a two-vehicle crash on Hwy. 171, south of Zwolle at the Oosta Road, claimed the lives of three people.  Dead were the driver of a 2003 GMC pickup truck Billy Meshell, 66, and his two granddaughters, Jolie Northcutt, 17, and Kadience Northcutt, 15.
Investigation by the State Police revealed that the pickup was traveling north.  At the same time, a 2012 Peterbilt log truck, also headed north, began slowing to make a right-hand turn onto Oosta Rd.  Meshell failed to decrease his speed and impacted the rear end of the log truck.
Meshell, who was restrained, sustained fatal injuries, as did the two juveniles who were not restrained. All were pronounced dead at the scene. The driver of the log truck, who was restrained, sustained minor injuries.

Three funerals are going to cost a lot of money for this family – somewhere around $24,000. April Meshell, who has family ties, and Michelle Quintero immediately set about trying to help the family by doing a split the pot on the Internet to raise funds for the funerals. On Saturday, Kandace Meshell headed a benefit by selling lunches in the parking lot of the old Market Basket in Zwolle.
These folks are in need, so if you can, please help them. You may call April Meshell at (318) 508-2956 or Meshell Quintero at (318) 228-0445. Donations to cover the family's expenses may be mailed to April Meshell, 3152 Hwy. 482, Noble, LA 71462.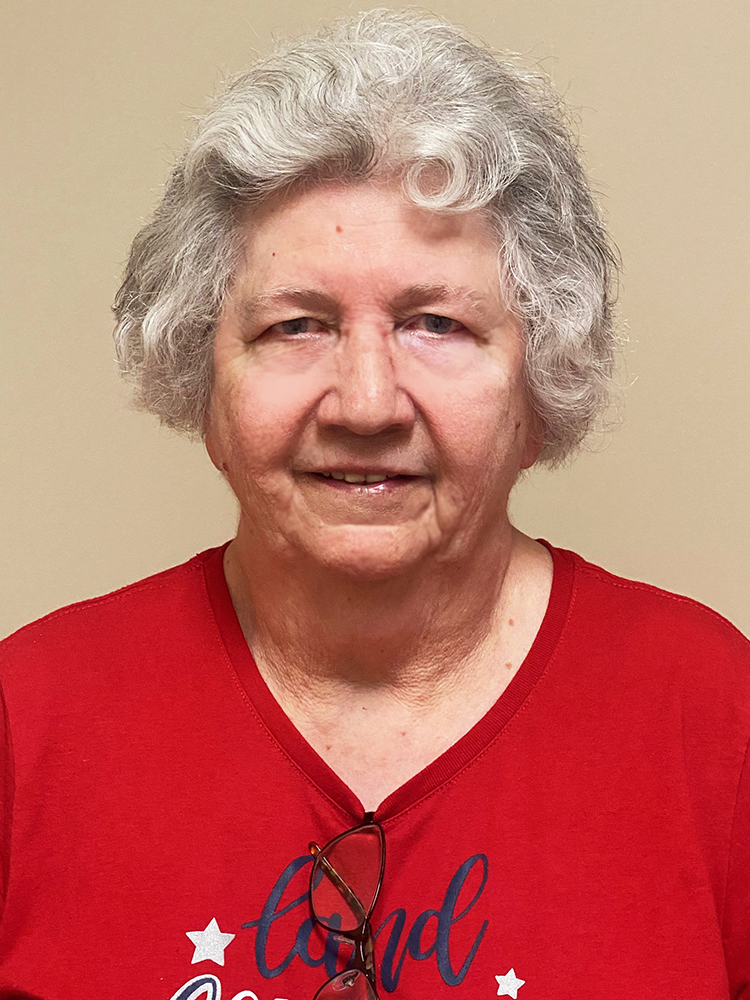 Mary LeJune has announced that she will be a candidate for Dist. 2 Police Juror. She holds a bachelor's degree in accounting, was office manager of a garden center for 10 years, owner of a variety store in Lake Charles, Girl Scout leader and Sunday School teacher.
Ms. LeJune says her top priority when elected is roads. "I want to see our roads repaired correctly so they will hold up to the wear and tear they receive," she commented. "I have heard many complaints from homeowners who have suffered auto damage due to the condition of the roads. If it is damaging personal vehicles, I am sure it is also damaging school buses. This is unnecessary expense."
The candidate termed herself "honest and dependable." She said she is willing and eager to learn and is a quick learner. Continuing, she stated, "When I commit to a project, I give it my all. I am willing to listen to my constituents, and I will only be a phone call away."

Converse Ladycats' historic win celebrated
The folks in Converse are very proud of their Converse Ladycats softball team who won the Louisiana High School Athletic Association 2023 Non-Select Division V State Championship. And on Friday evening, May 19, they turned out in mass to show their pride and support.
The event was sponsored by Mayor Troy Terrell and the Village Council, including Council Members Rodney Rutherford, Travis Womack and Chrissy Ebarb, as well as Clerk Sonya Ryan, Assistant Clerk Fran Mouser, Utility Supervisor Doug Williams, Chief of Police Davis Gentry and Asst. Chief Jacob Bridges.
The Converse team captured the victory by defeating Quitman High School, 2-1, in the championship game. This was the first ever state title for Converse and the Wildcats were the only team to score a run on the dominant Quitman team throughout the playoffs.
The Converse team also received a stellar pitching performance from Avery Prine, who pitched all nine innings, allowing just three hits and one run, and struck out 17 batters. On the offensive end, Abby Friday and Macie Morgan contributed one RBI each.
Mayor Terrell would like to thank Lane Paddie with the Converse Coffee Café and Missy and K-Wall Sepulvado for preparing the food, and he thanks Lane Paddie, Michelle Counts, Fran Mouser and Sonya Ryan for serving the food.
He also issued a word of thanks to Principal Mrs. Terri Webb, Head Coach Chris Brumley, Associate Head Coach Daniel Litton, Assistant Coaches Ashlee Bennett and Derek Morgan, Assistant Principal Lamar Boudreaux, Athletic Director Rhonda Byrd and School Board Member Terrell Snelling.
State Superintendent of Education Dr. Cade Brumley, a native of Converse and younger brother of Coach Chris Brumley, issued a letter of congratulations, writing, "High school athletics play a vital role in the development of student athletes, cultivating a wide array of positive personal and team habits. Those habits, more often than not, translate into lifetime skills enhancing one's life and lives of those within the circle of engagement. Further, sports programs provide meaningful community impact – particularly in small towns like Converse."
Supt. Brumley said he followed the team to the State Championship, adding, "As an alumni, former teacher, coach and principal of the school, I was enthusiastic. This is a memory that will never be forgotten by the student athletes, coaches, parents and school community – nor should it be forgotten."
Rep. Ted Bagley presented a copy of House Concurrent Resolution No. 76 which commended the team. The resolution was also supported by Rep. Alan Seabaugh, Rep. Rodney Schamerhorn and Sen. Louie Bernard.
Converse Principal Terri Webb issued the following statement:
"What a wonderful celebration and heartfelt acknowledgement of success! The Converse Ladycats, Coaches, and entire Converse school want to thank Mayor Terrell and the Village of Converse for the kindness, thoughts, best wishes, banners and all of the many ways of Congratulations that were bestowed last night. These lasting memories are in our hearts and will press forward to future teams and seasons of success!
"Thank you to the community that fed everyone with happy smiles and for all working together to make so special! Thanks to Randy Bostian and Marion Koss from BDC Radio for the live broadcast, and Rep Bagley for the resolution and uplifting praise! Thanks to Coach Mike for the supportive and encouraging challenges to maintain this State Championship and for taking time to really care about our athletes hearts!Thanks to Harold Brumley for the support and for relaying the message from our State Superintendent Cade Brumley! We appreciate our Sheriff Aaron Mitchell and the leadership and devotion to keep us safe! Thanks to Chief David Gentry and Asst Chief Jacob Bridges for the many games they made safe! Thanks to Officer Speedy Santos for his loving protection! Thanks to Lane Paddie and The Ricky Sepulvado family and the many fans that prepared and served the food!
"These girls and coaches are STATE Champs and soar with the strength that the fans, parents and grandparents, friends, community and school instilled in their hearts! With that being said, they never gave up and never broke their internal bond!
"Our Superintendent Wright and our School Board Trustee Snelling never wavered on support and encouragement as our faculty and staff matched cheering and making everything work for our games!
"Thanks to Bro. Chuckie Clark and Bro. Brian Rankin, as they provided our spiritual blessings and guidance in prayer!
"Larry Patrick and Coach Walter Litton passed magic down through the years for our Softball program! Magic happened again with Coach Daniel Litton and Coach Chris Brumley! History was made for Converse 2023! What a ride! Thank you to all that contributed to the thrill of a lifetime for not only our school but our beautiful, spirited and talented Ladycats! REPEAT IN 24!
"Sincerely, Your Proud Principal, Terri Webb"

Judge Gentry hosts training for better juvenile outcomes
On May 19, 11th Judicial District Judge Verity Gentry hosted a Courts Training all-day workshop for individuals and entities who work with Sabine Parish Juvenile Court.
The Trust-Based Relational Intervention (TBRI) training offered evidence-based research developed at Texas Christian University which provides tools for positive outcomes when dealing with youth who have been abused or neglected, who have faced unusual adversity, who may lack healthy home and parental structures, or have experienced other traumas which impact brain and biological development, belief systems and behaviors.
Invited to attend the course were judges, attorneys, Dept. of Children and Family Services staff, Court staff, Court Appointed Special Advocates (CASA) and Families in Need of Services (FINS) staff.
Sabine Supt. of Schools Shane Wright, First Assistant District Attorney Anna Garcie, Sabine FINS Officer Kem Jones and Student Services Director Kristy Brumley all attended the session in addition to some 20 more court-involved staff, law enforcement and others who interact regularly with Sabine Juvenile Court.
The information and tips offered techniques to intervene and help correct "relational trauma," defined as abuse, assault, interpersonal violence; familial physical, social, emotional abuse and incest; molestation; severe bullying; physical, medical and emotional neglect; witnessing domestic violence; and disruptions in care due to a young person's caregiver having mental illness, substance abuse, criminal involvement, or the youth experiencing abrupt separation and loss.
Attendees learned scientific correlations of trauma's impact on young people's brains, bodies, beliefs and behaviors, as well as TBRI techniques to intervene, build trust and help correct the negative impacts caused by childhood trauma.
"Whether it's truancy, delinquency, ungovernability, substance use, child maltreatment, [or] mental health issues, trauma was the one thread that wove its way through all of this," Caddo Parish Chief Juvenile Judge David Matlock commented. "The understanding of relational trauma was the thread running through so many of the problems we see in society."
The course taught engagement and connecting strategies which, when used, have been shown to result in not only a drop in juvenile cortisol "fight or flight" levels, but increased trust and compliance toward authorities, school and court systems, law enforcement and others involved in juvenile correction.
"I am committed to the youth of Sabine Parish and to the safety of all of our citizens," Judge Gentry noted. "We must find good solutions to meet the needs of our youth, including their need for structure and safety within their families, to break unhealthy trauma cycles which result in juvenile delinquency. I thank everyone who attended today for working with me to do all we can for a brighter, safer future in Sabine."
TBRI Program Director Lucinda Miles of Shreveport helped lead the session. She is a TBRI practitioner, life coach and author of "Disciple of Joy, an Interactive Spiritual Journal." She also works closely with Caddo Parish Juvenile Court and has trained hundreds of parents, caregivers and stakeholders across Louisiana in TBRI Caregiver strategies.
Also helping lead the training course offered by Judge Gentry was Anna Palmer, Founder, Executive Director and TBRI Trainer of Crossroads NOLA in New Orleans.

My wife Laurie and I presented a program at the May 23 meeting of the Winnfield Kiwanis Club.  I spoke about the experiences I had working with the late Gov. Earl K. Long, a Winnfield native, when he ran for U.S. Congress in 1960.  I served as his Public Relations man and am "the last man standing" from those who worked for him in that era.  Laurie, who is a musician, presented a rendition of Uncle Earl's favorite song, "In the Garden."  We were invited to visit as guest speakers at the program by Winnfield Kiwanian Chet Atkins.  He is a good friend of Many's Blake Byles and is currently in the race for Winn Parish Tax Assessor.

Some weeks ago, I was also fortunate to be invited to speak to the Cenla Authors Club in Alexandria by longtime friend Michael Wynn.  My topics were the Sweet Dreams Publishing Co. which I owned about 25 years ago and my friendships and professional relationships with Gov. Earl K. Long, Gov. Edwin W. Edwards and Gov. Jimmy Davis.
Michael has been very active for many years as an author, political historian and promoter. He served several terms as a board member on the Louisiana Political Hall of Fame and with the Louisiana Judicial Hall of Fame.
While at the meeting, I got to meet Attorney Joe McGinty and his lovely wife.  Joe and I have been phone friends for several years, and it was a pleasure to finally meet him in person.  I found Joe to be just as nice as I had always thought him to be.

Northwestern State University awarded 905 degrees to 881 graduates during spring commencement. The following area students received degrees and we send our congratulations to them all.
MANY: Gertude Maxie, Bachelor of Arts; Kamryn Barnhill, Joel Heard, Layton Knowles, Bachelor of General Studies; Connor Higgins, Katara Jackson, Michael Lane, Alexander Martinez, Kasey Moore, Walker Rule, Alexandra Sims, Joely Vines, Bachelor of Science; Chikuita Carhee, Bachelor of Social Work; and Sydni Easley, Post Baccalaureate Certificate.
FLORIEN: Kerry Gauthier, Associate of Science in Nursing; Danielle Lowery, Bachelor of General Studies; Diego Almanza, Ashley Carter, Jordan Merritt, James Miller, Nicholas Slayton, Bachelor of Science; Aswayn Law, Master of Arts in Teaching; Travis Cook, Post Baccalaureate Certificate.
CONVERSE: Emiley Mowad, Bachelor of Science in Nursing; Monica Rascoe, Master of Education.
NOBLE: Emma Craig, Tanner Funderburk, Nickolas Tramel, Bachelor of Science. Sarah Mann, Master of Education.
ROBELINE: Samuel Phillips, Associate of General Studies; John Martinez, Bachelor of Fine Arts; Reagan Moore, Bachelor of Science.
ANACOCO: Lindsey Alligood, Associate of General Studies, Ashlynn Chaney, Matthew Pajinag, Kayley Procell, Bachelor of Science; Marilyn Manley, Bachelor of Science in Nursing; Andrea Wilson, Master of Science in Nursing.
HORNBECK: Emily Volpe, Associate of General Studies; Logan Alford, Bachelor of General Studies.
(Thanks to David West of the NSU News Bureau for supplying this information.)

The story becomes more bazaar as time goes by. Recently, what began as a joyous occasion turned into tragedy at the Lewing-Faircloth wedding when the parents of the groom got stabbed. The celebration was held at Wildwood Resort out from Zwolle and a call came into the Sabine Sheriff's Office at 12:37 a.m. on a Sunday morning.
They found the groom's father, Jeffrey Faircloth, cut in both legs and the groom's mother, Stacy Faircloth, cut in one leg. "It started verbally and then turned physical," Sabine Sheriff's Chief Deputy Brad Walker explained.
Witnesses identified Tristan Collins, 27, as the assailant. Deputies caught up with him as he was leaving the scene and arrested him. He was charged with Aggravated second-degree battery and Aggravated battery.
Now, last week the groom, Zach Faircloth, was arrested for Aggravated assault with a firearm. He bonded.
[Editor's note: This is not the same Zach Faircloth who serves most honorably as Sabine Parish Registrar of Voters.]

More news from the little speed-trap town of Robeline. On Wednesday night of last week, there was a disturbance at the home of Terri Matthews who has long been vocal about the operations of the Village of Robeline. A lot of folks around Robeline have been quite critical of her actions.
It was reported to Observations that very early Thursday morning there was a disturbance at Terri's home, and gunshots were fired. We talked to Terri, and she would not comment about gunshots for the record.
She said that her daughter, Kathy Ivy, had left her husband, Clay Ivy, because of a serious domestic dispute and moved in with her. Terri said Kathy took the couple's truck because it was in her name, and Clay came over to get it.
In closing, she commented, "I am 64 years old, and I will die protecting my daughter if necessary."
It was reported that law enforcement officers were called, but no arrests have been made.

In other happenings from Robeline, Rodney French, a member of the Village Council, reported to Observations that the Council held a special meeting last Thursday to discuss a "sewer problem."
French said at the end of the meeting that a visitor, Anthony Freeman, threatened to whip him, claiming French had been disrespectful to his wife.

We were saddened last week to learn of the death of Kenneth Williams.  Folks in downtown Many are well aware of him, although they might not have known his name.
For years Mr. Williams walked around downtown and could be seen almost every day sitting on the bench in front of the Treasure Chest shop on San Antonio Ave. He always wore overalls and a hat, and for months during the COVID-19 pandemic, he wore a mask.
He was a kind, friendly man and enjoy talking with folks. He will be missed, and we send our sympathy to his family members and friends.

Speaking of the Treasure Chest… it's official, and we're awfully happy to report the ultra-successful Ya Ya's Children's Boutique of Natchitoches is moving to downtown Many. It is our understanding the regional favorite featuring "Beautiful clothes for Beautiful Children" will occupy the former Treasure Chest storefront at 785 San Antonio Ave.
Ya Ya's has established an amazing following at their Bienville Square location in Natchitoches. We have not yet confirmed if they plan to close that location and move to Many entirely, or if Many will simply be a second store. Whichever it may be, it's another great shot in the arm for downtown Many, and here's hoping former and new customers of the shop will support the new store, owned by Marthaville native Laura Powell Strahan.
Best wishes to Ms. Strahan, and we thank her for her move to Many.
-30-
1
2
3
11
101
275
Next ›
Last »