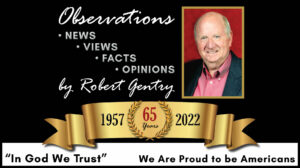 Wednesday, December 7, 2022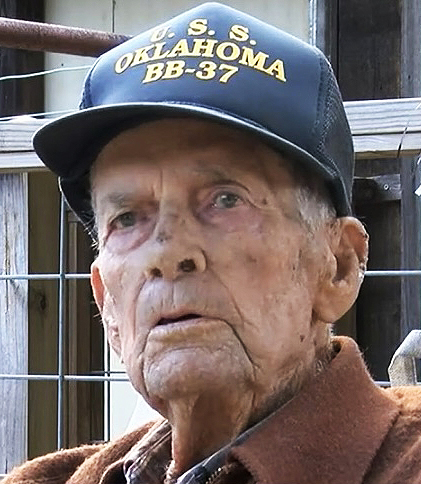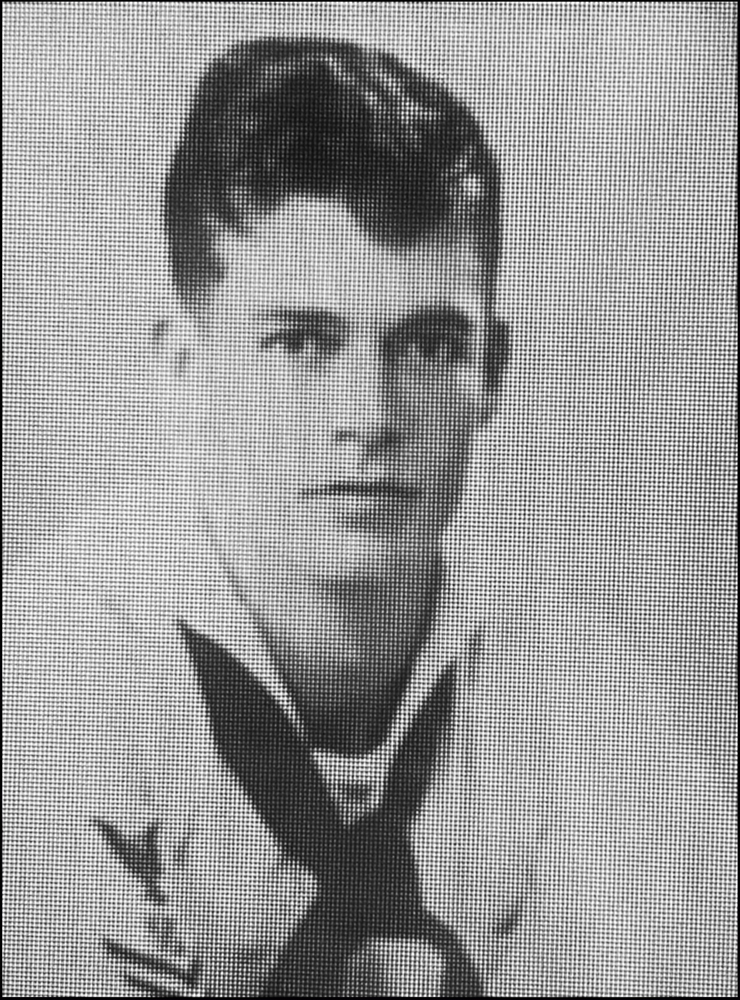 On Wednesday, Nov. 23, Jesse Mahaffey of Florien celebrated his 100th Birthday. Some years ago, Tedd Dumas and I hosted a reception at Bayou Crawfish to honor Mr. Mahaffey and two other World War II veterans for their service. In addition, Tedd had Mr. Mahaffey on his popular "Open Line" radio program. It was all very interesting, including the fact that he survived the attack on Pearl Harbor on Dec. 7, 1941. That attack took place 81 years ago. The following day, President Franklin D. Roosevelt asked Congress to declare war against Japan.
Mr. Mahaffey was graduated from Florien High School in May 1941. On that day, he and C. P. Gandy and Blanchard Pruitt hitchhiked from Florien to Shreveport to join the armed services. It took them most of the day, and they arrived too late to register that day. "They told us to come back tomorrow," Mahaffey recalled. "We didn't have any money, so we stayed overnight at a police station." He said a policeman saw the three walking along the sidewalk, stopped to see what they were doing and took them to the station to spend the night. The following morning, Jesse and C.P. joined the Navy and Blanchard enlisted in the Army. Jesse stayed in the service until the war was over in 1945.
After he enlisted in the Navy, Jesse went to San Diego, CA for boot camp with one of his friends. When he finished training, he was sent to serve on the battleship USS Oklahoma.
His battleship ended up at Pearl Harbor, where on Dec. 7 it got bombed by the Japanese. "Three torpedoes hit the ship soon after the attack started," he recalled. "She gradually rolled over and two more struck the vessel. As it overturned, some crew members became trapped inside a few surviving air pockets. They remained there until air rescuers could cut holes in the bottom to rescue them."
Recalling, "The morning of Dec. 7 was just like any other, until the Japanese began their attack," he said. Mahaffey and his shipmates soon found themselves in dire straits. He continued, "All of a sudden, the Japanese came right at us in the harbor. We didn't realize they were coming, and it shocked us. We were tied up to the Maryland, which was tied up at the pier at Ford Island on Battleship Row as you come into the harbor. The Arizona was just four ships behind us."
He continued, "The line broke and it took less than 10 minutes for the ship to turn completely upside down. We lost 429 men on our ship that day." He and several of his shipmates managed to slide into the water and get out of the ship before it sunk.
Not only did Jesse survive the Pearl Harbor bombing, but he also survived the sinking of the USS Northampton in the Battle of Tassafaronga. On Nov. 30, 1942, the ship was struck by two Japanese torpedoes, tearing a hole in the port side, and destroying the decks and bulkheads. Destroyers rescued most of the crew within an hour. About 50 crewmembers died when the heavy cruiser sank.
Eventually, Mahaffey found his way to an amphibious transport that delivered soldiers to venues in both the Pacific and European theaters.
His last campaign was at Iwo Jima, and he was on his third and final ship when the atomic bombs were dropped on Hiroshima and Nagasaki.
Jesse says he's very thankful he made it out alive, but some of his best memories are, "…when we went ashore to try to find a pretty little lady."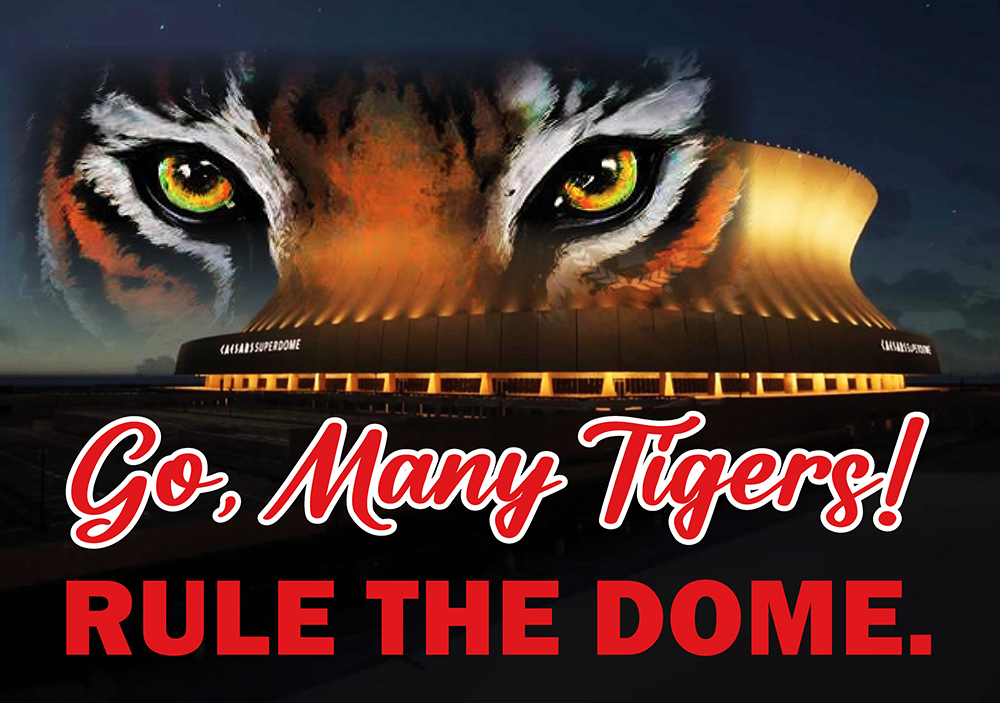 Congratulations and best wishes to the Mighty Many Tigers, who head back to the Superdome in New Orleans this weekend to vie for the State Championship for the fourth straight year.  They enter the game as two-time past champions, 2014 and 2020, and Championship runners-up in 1988, 2013, 2019 and 2021.
The team will face Class 3A Union Parish at 3:30 p.m. on Saturday, Dec. 10, following the Tigers' defeat of the St. James Wildcats (32-13) on Dec. 2 in the semifinals at John W. Curtis Tiger Stadium in Many.
At Friday's game, Many Tiger Trent Williams, a senior who rushed for 61 yards and three touchdowns, helped the team build a strong lead in the first half.
After St. James scored in the second half, they were shut down in part by Many Tiger Tackett Curtis, our Southern California commit, with a 52-yard rushing touchdown in the third quarter.
A fourth quarter blocked punt by senior Tiger Keaton Montgomery put a lid on it, and St. James never made a comeback.
Kudos to Head Coach Jess Curtis, who has coached the Tigers in all their championship game appearances since 2013. In the State Championship game of 1988, Coach Curtis was out on the field playing as a Many Tiger.
The excellent football program Coach Curtis, his staff and supporters have built over the years is remarkable, especially so for a Class 2A team. Best wishes to the Tigers! We know you will make us proud.
(Special thanks to my wife Laurie for the above article.)

Sabine Sheriff Aaron Mitchell recently announced the felony drug and gun arrests for the month of November.
Over five ounces of suspected methamphetamine and three firearms (one stolen) were seized last month, along with various other illegal narcotics and drug paraphernalia.
Arrested were:
Justin Ryley Allen, age 37, of Zwolle – Warrant for two counts of Distribution of schedule II (Meth). His bond was set at $25,000. He remains in jail.
Alexandria Cheyenne Royal, age 22, of Camden, AR – Possession of Schedule I (Marijuana), Possession of Schedule IV (Xanax), Headlamps on motor vehicles required, and No proof of insurance. Her bond was set at $1,000. She bonded.
Matthew Cole Ferguson, age 21, of Hornbeck – Aggravated second degree battery, Obstruction of justice, Possession of firearm or carrying concealed weapon by a person convicted of certain felonies, Aggravated assault with a firearm and Simple criminal damage to property. His bond was set at $100,000. He remains in jail.
Krystin Dillard Marr, age 37, of Mansfield – Possession of schedule I (Marijuana), Possession of schedule II (Meth), Possession of drug paraphernalia, Driving under suspension due to DWI and No insurance. Her bond was set at $5,820. She bonded.
Marcus Smallwood, age 42, of Shreveport – Possession of schedule I (Marijuana), Possession of schedule II (Meth) and Possession of drug paraphernalia. His bond was set at $8,000. He remains in jail.
Austin Ray Cooley, age 29, of Leesville – Possession with intent to distribute schedule II (Meth) and Contraband in penal institutions prohibited. His bond was set at $30,000. He remains in jail.
Jessie Lawayne Williams, age 47, of Provencal – Illegal possession of stolen firearms, Possession of firearm or carrying concealed weapon by a person convicted of certain felonies, Possession of or dealing in firearms with obliterated number or mark and Vehicles without required equipment or in unsafe condition. His bond was set at $45,000. He remains in jail.
Justin Laynne Free, age 42, of Marthaville – Possession of schedule II (Meth) and Vehicle without required equipment or in unsafe condition. His bond was set at $2,500. He bonded.
Natalie Nicole Williams, age 33, of Many – Possession of schedule I (Marijuana), Possession of schedule I (Ecstasy), Possession of schedule IV (Xanax) and Expired vehicle registration. Her bond was set at $0. She was released.
(Special thanks to Det. D.W. Seegers for the above information.)

Recently Observations ran a piece about Gail Thomas of Many having an authentic stock certificate for the Victoria, Fisher and Western Railroad Co. dated March 10, 1903. It was for 500 shares and capital stock for the company was listed at $300,000.
Well, a person read the story and thought Gail had received the $300,000. Unfortunately, she did not receive the funds, but it was an interesting comment.

SABINE PARISH SALES AND USE TAX COMMISSION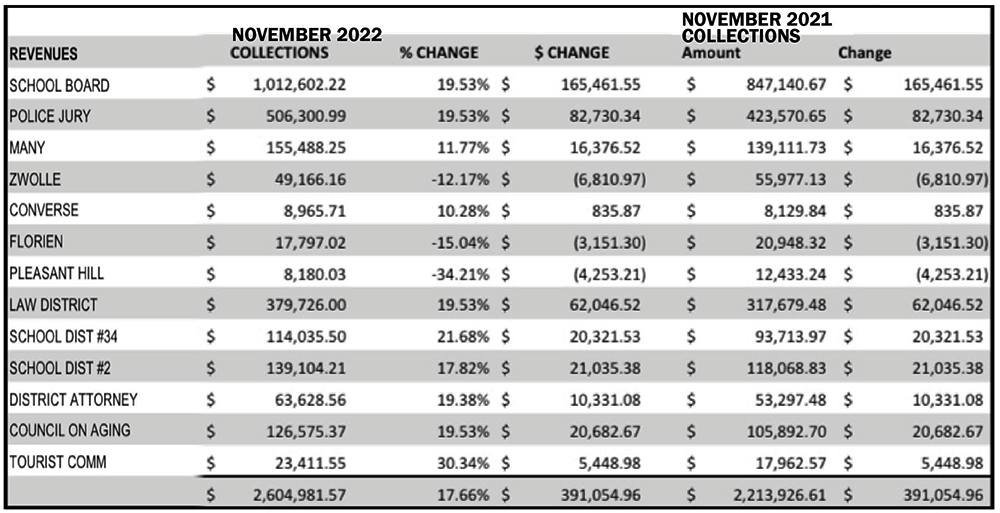 The November sales tax report for Sabine Parish has been issued by Wanda Rivers, Administrator for the Sales and Use Tax Commission.  Total collections for the month were $2,604,981.57, which is up by $391,054.96 from the same month last year.  Collections were down in the towns of Zwolle, Florien and Pleasant Hill.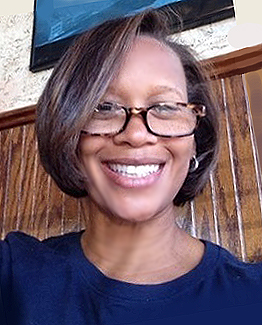 It's going to be a big deal out at the Sabine Parish Tourist and Recreation Commission next Wednesday, Dec. 14, from 9:30 until 11.30 a.m. It is a holiday Open House referred to as their "Jingle and Mingle." The headquarters and party location are at 1601 Texas Hwy., just west of Many. Everyone is invited to attend the festivities.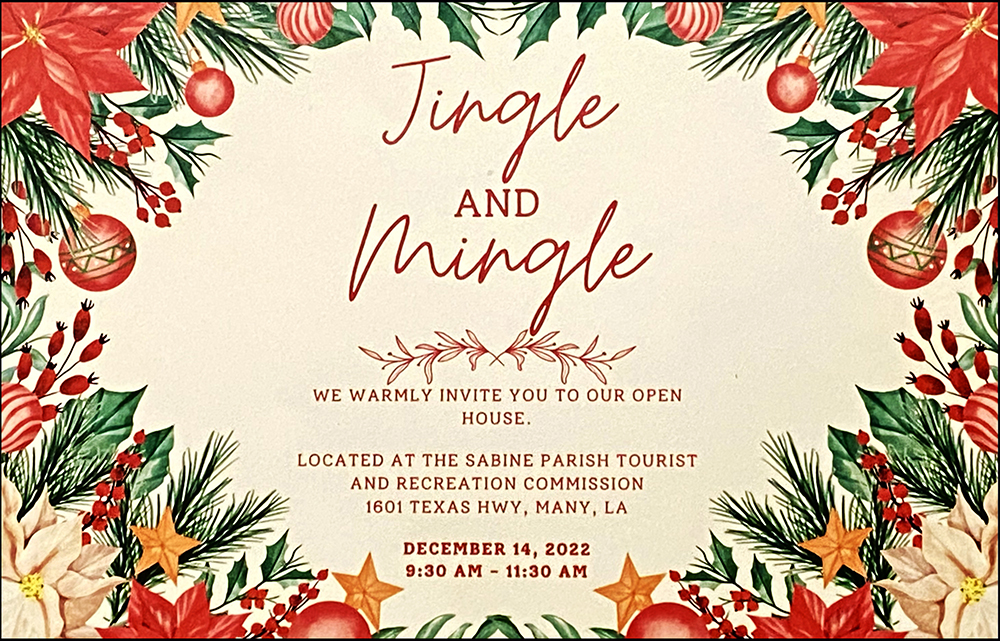 Hard to believe, but Ms. Georgia Craven has been at the helm of the Tourist Commission for a year now.  And what a great job she has done in repairing an organization that was not in the best shape when she took over.  Ms. Craven is very enthusiastic about her job and has the knowledge and know-how to get things organized and running smoothly.  We are fortunate to have her.
The other day, Kaitlyn Johnson, the Tourist Commission's new Marketing and Events Coordinator, came by to introduce herself. She was hired by Ms. Craven, and it was nice to meet her. We were impressed and feel that she is going to do a great job for Toledo Bend.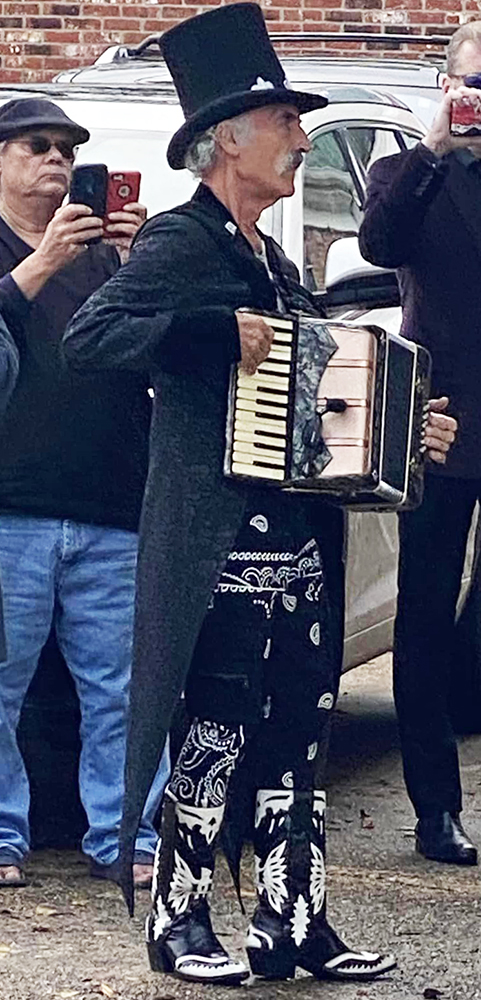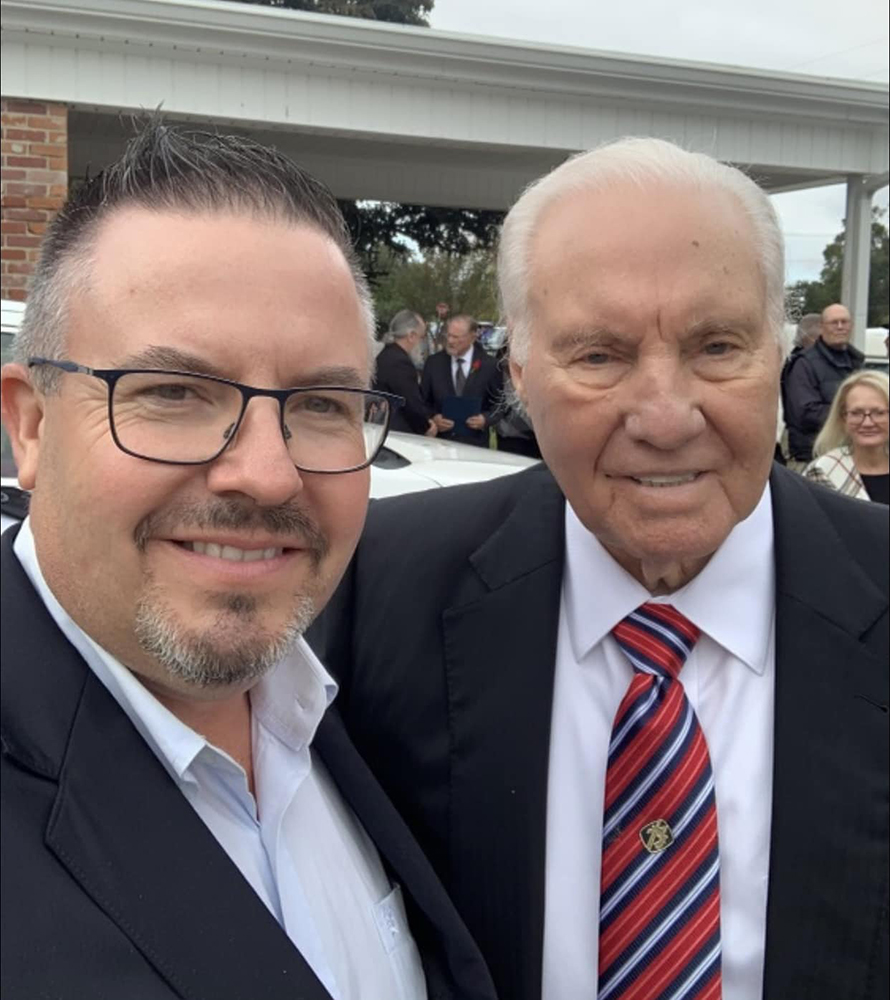 Dr. Michael L. Kuk of Anacoco will be on Tedd Dumas' very popular "Open Line" program on Monday, Dec. 12, from 7:30 to 8 a.m. I will join them, as I do the second Monday of each month. Chief Sheriff's Deputy Brad Walker will also be on the program.
We will be visiting about the funeral of Louisiana native and Rock n' Roll pioneer Jerry Lee Lewis. He died Oct. 28 at the age of 87, and his funeral was held in his hometown of Ferriday on Saturday, Nov. 5.
Dr. Kuk stood by and played beautiful accordion music after the service as the casket was brought out of the funeral home chapel and placed into a hearse for transport to the cemetery. Among the songs he played was "Amazing Grace."
Chief Deputy Walker is a big fan of Jerry Lee Lewis music and had the pleasure of visiting with him at his Beale St. place in Memphis.
The interviews with these two guys promise to be fun and interesting, so plan to tune in on the radio, or listen on your device by visiting bdcradio.com and clicking "Listen Live." From there, select KWLA 103.1 FM to hear the program.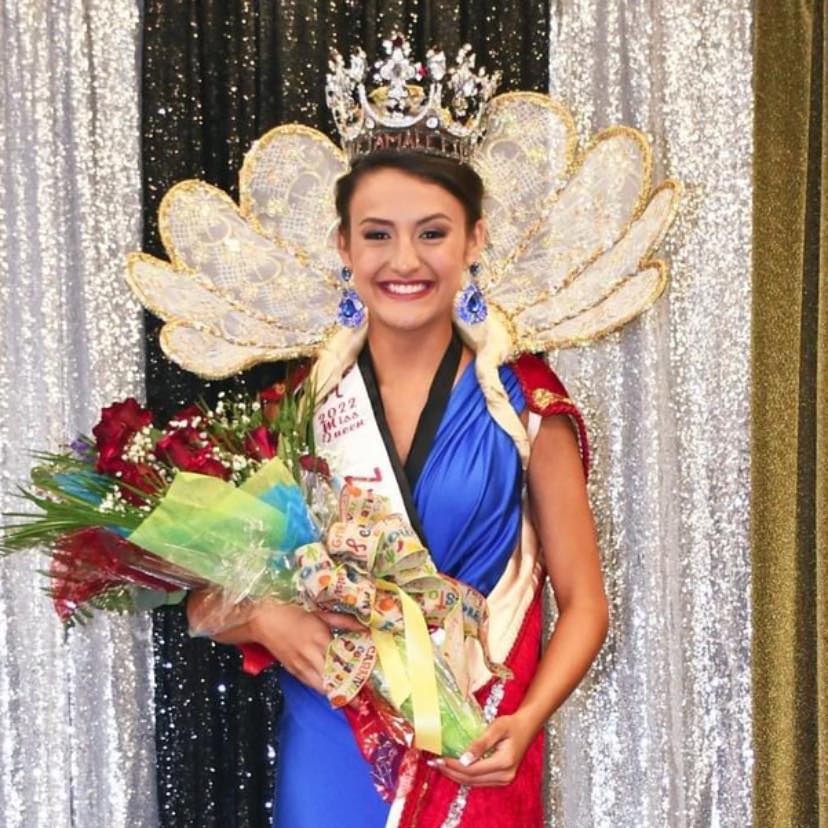 Look for a familiar face on the Louisiana float in the upcoming Rose Parade in Pasadena, CA. Miss Zwolle Tamale Fiesta Queen Kaydence Rae Ann Meshell will represent Louisiana as she rides in the historic parade on Monday, Jan. 2. It will be the Rose Parade's 134th year, and the parade will be broadcast in its entirety on the RFD-TV network.
Kaydee was crowned the 46th Miss Zwolle Tamale Queen on Aug. 27. She is the 17-year-old daughter of Chris and Kacey Meshell. Her grandparents are Randy and Connie Byrd and Herbert and Eva Meshell.
She is a senior at Zwolle High and participates in many school functions. She and her family are members of the Noble Baptist Church.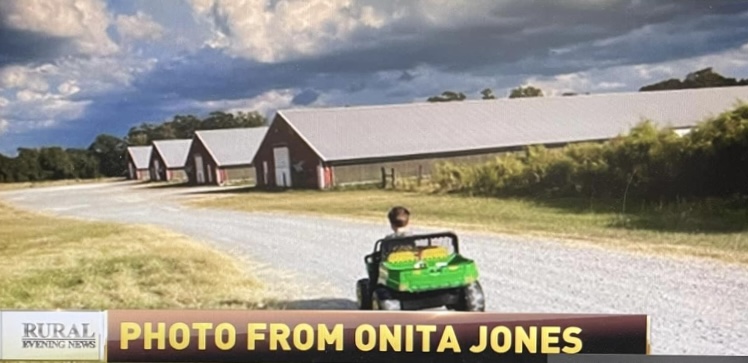 A photo submitted to RFD-TV by our friend Onita Jones was showcased during the network's "Rural Evening News" on Monday, Nov. 28. The photo shows a scene on Imon and Onita Jones' IO Farm near Florien featuring their little grandson, Kase, driving his mini side by side.

Sheriff Aaron Mitchell issues statement regarding incident at The Border lounge
Sabine Sheriff Aaron Mitchell recently released a statement regarding the incident at The Border lounge in the early morning hours of Dec. 3. It follows:
"Since being elected your Sheriff, it has been my goal to be completely transparent with the public regarding my administration.
"Immediately upon learning of the actions taken by Reserve Deputy Dustin Cartinez at The Border lounge, his status as a Reserve Deputy was suspended and his commission was later revoked. He is no longer affiliated with the Sabine Parish Sheriff's Office.
"Part of the prior media release [see article below] was meant to detail Cartinez's past affiliation with the Sheriff's Office and was not intended to commend his service.
"The Border Lounge is located within the city limits of Zwolle; therefore, Zwolle Police Department is the lead investigating agency. The case is still under investigation by Zwolle PD.
"Dustin Cartinez, Kobe Cartinez and Payton Lindsey were all charged with Second Degree Battery (Felony) and booked into the Sabine Parish Detention Center. All arrests were made by Zwolle PD with full support of the Sabine Parish Sheriff's Office.
"It is the goal of all law enforcement involved that justice be served."
In conclusion Sheriff Mitchell said, "My thoughts and prayers continue to be with Mr. Parrie and his family."
(Thanks to Det. D.W. Seegers for sharing the above information.)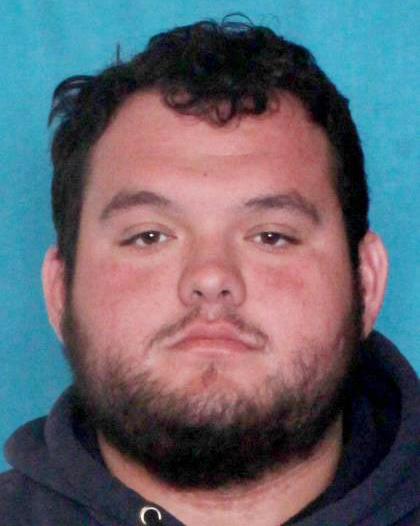 Sheriff Aaron Mitchell said an altercation occurred at "The Border," a Zwolle lounge, at 1 a.m. Saturday morning, Dec. 3. He said a fight started in the bar and then moved outside.
Officers from Zwolle Police and the Sheriff's Department determined Bobby Parrie Jr., Dustin Dewitt Cartinez of Many and Payton E. Lindsey of Zwolle were involved in a fight. Parrie was seriously injured and was taken to a Shreveport hospital.
Cartinez, age 39, is a commissioned, volunteer Reserve Deputy with the Sheriff's Office, who was not on duty at the time of the incident. Cartinez was booked into the Sabine Detention Center for second degree battery.
Lindsey, age 24, was booked in the Sabine Women's Jail for second degree battery.
Their bonds were set at $8,000 each, and they were released.
Sheriff Mitchell said Cartinez's status as a commissioned Reserve Deputy has been suspended. It was not stated whether this is temporary or permanent [note: permanent – see Sheriff Mitchell's statement above].
On Monday, Dec. 5, Zwolle Police Officers arrested Kobe Cartinez, age 22, and charged him with second degree battery. He is the son of Dustin Cartinez.

The Sabine Parish Police Jury met in special session on Dec. l to discuss matters dealing with the Sabine Parish Library Board, which operates under the Jury's direction.
District Attorney Don Burkett said Library Board monies cannot be spent on roads, as some have suggested. He said his opinion is that the Police Jury has the responsibility to acquire property and erect buildings, and the Police Jury, not the Library Board, has the authority to accept bids for a new building. "You can go to the Attorney General for an opinion if you wish," Burkett told the Jury. Kenneth Ebarb, Dist. 8, said the opinion Burkett gave is "not specific to our matter." Burkett said the Library Board will be accepting bids for a new library on Dec. 8 but will not be able to award a contract. "It would be ill advised for the Library Board to sign a contract," he continued.
Jeff "Gilligan" Davidson, Dist. 5, commented that if the Library Board spends all its money on a building and then has no money with which to operate, it will come to the Jury for funding.
Ebarb said he was "flabbergasted" several times about the matter. Bo Stewart, Dist. 1, said he is not against the library, but he represents the public and "they don't want this." He continued, "I don't like to look at this budget. Once you spend it, you're broke."
Mike McCormic, Dist. 2, asked if the Jury can shut down the library and Burkett answered, "Yes." William Ruffin, Dist. 4, asked if the tax was voted down to "get rid of the library" and most in the audience joined in saying, "No." He continued by throwing out the possibility of the Library Board modifying its plans as he looked toward the audience that filled the room.
"You need to be talking to me," Ebarb advised Ruffin. Ebarb then said he would be willing to listen to anyone. Ruffin said he believes the taxpayers felt the tax was excessive and "people feel it is a big, luxury thing." He said the Library Board might scale back their plans and compromise.
In other business, the Jury on a motion by McCormic with a second by Stephen Steinke, Dist. 3, voted to table the item to review and approve the 2023 budget of the Library Board which totaled $4,382,039.
Ruffin noted he has been on the Jury for over 30 years, and it has never approved a Library budget before.
Ebarb said the Library Board is "doing a good job since I been on it and before." He said there was a "lot of misinformation and lies" going around about it, and the Jurors need to walk across the street and see it. Davidson remarked if the Library Board "blows all its money on a building and then operates for a year and is broke, they will ask the Jury to come up with the money to operate."
There was talk about the current condition of the main library building with a comment that the roof was leaking, and they had to put out containers to catch the water when it rained. The question is, "If the Board has about $5 million and are good stewards, why don't they get a new roof?"
Jamie Johnson, an opponent of the recent tax, asked how the Library Board can justify spending all its money with no way to go forward. "I don't know how an intelligent Library Board can call a meeting the day after the tax was defeated and move forward when the public doesn't want to move forward."
Pat Scarborough and his wife Joy who head Sabine Parish Citizens for Better Roads both spoke, and he was called down by Ebarb for "not being on the subject." Joy asked the Library Board, "What part of 'no' don't you understand?"
Another speaker, Pat Gandy said a decision needs to be made based on what the voters want. He suggested the Library Board give the Jury money for roads until a library tax is passed. Burkett said the Library Board money cannot be used for roads.
In other business, the Jury voted to request an opinion from the Attorney General on the Jury's budgetary control of the Library Board. All voted in favor with the exception of Stewart.

Pat and Joy Scarborough of Sabine Parish Citizens for Better Roads will livestream the next meeting of the Sabine Parish Library Board on Thursday, Dec. 8, at 9 a.m. to be held at the Library in Many. The group has been opposed to construction of a new library.

The Sabine Parish Citizens for Better Roads group renewed its call for Police Juror Kenneth Ebarb, Dist. 8, to resign following the Dec. 1 Jury meeting which was held to discuss the Parish Library.
Several people called Ebarb's hand about the way he conducted himself at the meeting. During the meeting, he remarked, "I read an article yesterday, and I think it was put out by, I think it might have been Newsweek – and Louisiana, by their standards, is the fifth dumbest state in the United States." His opinion was that a new library building would make a difference. Pat Scarborough later posted on social media, "Is this the kind of person you want to represent you – someone who thinks people in Louisiana are dumb?"
During the meeting Ebarb said four or five times that he was "flabbergasted" that the citizens of Sabine voted against the library tax. Theresa Dumas Billups wrote afterward on Facebook, "I'm flabbergasted about how our tax dollars have been wasted." Ranger Dukes wrote, "Ebarb is very flabbergasted and pushy as if he has something to lose if the library don't get built." And Becky Anders Rogers wrote, "I'm flabbergasted that they just can't take NO for an answer!"
Rebekah Stiegemeyer wrote, "The money in the library fund is tax dollars, it is not privately funded. What does Mr. Ebarb mean by referring to it as 'our money?'" She also criticized Ebarb for referring to the library as "his board." Her point was that elected officials are there to serve the public, and they should never think of the people's money or boards as being theirs.
Ranger Dukes suggested putting a metal roof over the library if it is leaking. Mike Pitt said, "If the Library Board is responsible for maintenance and repair of their building, they haven't done a very good job on the building they have. But they have money in the bank. Why don't they use that for maintenance and repairs?"
And Many businessman Jamie Johnson said he went to the library after the Jury meeting, and Ebarb came in and wanted to shake hands with him. Johnson said he would not shake hands with a person who treated his patrons with arrogance in a public meeting.
I do not personally know Mr. Ebarb, but always thought he had a good record of public service. I hope his legacy will not be that he was the Police Juror who was asked to resign and was harsh in his treatment of the folks he was supposed to be serving
-30-
1
2
3
11
101
250
Next ›
Last »