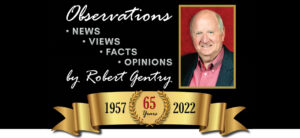 Wednesday, May 25, 2022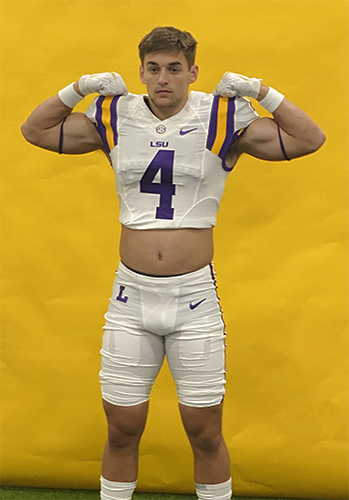 Many High's Tackett Curtis is one of the most well-known names in Louisiana when it comes to high school football recruiting.
He's been one of the state's most talented defensive players since he moved onto the varsity roster, and he's ranked nationally as the No. 6 linebacker prospect in the country and No. 56 overall recruit in the 2023 class. On 24/7Sports, he's tabbed as one of the top five recruits in Louisiana during a cycle that's heavy on top-end talent.
With more than 50 college scholarship offers, the Who's Who of college football teams have courted Curtis as programs push to land his verbal commitment.
That said, his recruitment process didn't play out like most other top Louisiana recruits.
For nearly his entire college recruitment, LSU wasn't in the picture.
Ed Orgeron's staff had offered Tackett a scholarship in April 2021, but nothing materialized from there.
That changed this past weekend when Tackett made his first visit to LSU in a football capacity since middle school.
When LSU Athletics Director Scott Woodward announced the hire of Brian Kelly as the football team's new head coach, the former Notre Dame headman assembled a staff of on-field coaches and personnel that more or less wiped the entire slate clean from the Les Miles and Orgeron eras.
Now, the new-look football staff has settled in this offseason, and one of the top priorities on the recruiting trail has been the Top 100 prospect out of Many.
"We have been down this road a while now," Many High head coach Jess Curtis, Tackett's uncle, said of LSU's push this offseason. "We have made some great relationships with the coaches, and they have done a great job. We want to make sure [Tackett] turns over every rock, and being from Louisiana, we had to check out LSU."
On Friday of last week, Curtis hopped in the car and made the three-hour drive to Baton Rouge. He was joined on the trip by his father, Moses, brother Carson, his grandfather, John Curtis, and his head coach, Jess.
By the time the unofficial visit wrapped up, the Tigers were suddenly squarely in contention for a prospect who once seemed destined to leave the state for college.
"There was definitely a flip in my mindset before and after the visit," Curtis said. "I was like 'Man, I'm so glad I went.' I really enjoyed it."
To understand the impact made on the visit means going back to the hiring of Kelly – and then the staff he assembled.
Tigers fans celebrated the addition of former LSU assistant Frank Wilson, who is widely regarded as one of the state's best recruiters in the modern era. And Kelly held on to offensive line coach Brad Davis, a Baton Rouge native. But there was also the additions of other coaches with Louisiana roots that the Curtis family had grown familiar with over the past decade, including longtime Louisiana Tech assistant Joe Sloan and New Orleans native Cortez Hankton.
"It's a great staff full of good guys," Jess said. "I've known Sloan for a while with his time spent up in North Louisiana at Louisiana Tech. Then you look at Coach Hankton, I've loved him. He offered Tackett when he was at Georgia. It's a great staff."
When LSU assistant Brian Polian took over as the team's recruiting coordinator, he quickly circled Many High on the in-state map.
While Polian and Kelly were on staff at Notre Dame, the Irish offered Tackett a scholarship in May 2021. After finding out the Tigers had never gotten out of the starting gate for the in-state linebacker, Polian decided to double down on LSU's efforts. That meant hitting Many High in January, a time when most schools were focused on closing out the 2022 recruiting cycle, then quickly making Tackett a priority when the coaches hit the road for the spring evaluation period.
"Kudos to the new staff for seeing that and getting on the ball," Jess said. "Coach Polian came by first. He kind of set the tone. And Kelly made reference to it in his meeting; a lot of great talent left the state and ended up being team captains somewhere else, and LSU didn't go after them. And some are back at LSU now through the transfer portal. Kelly wants to do it with great kids and kids who want to be at LSU."
While it's clear Kelly's new staff has already made a big impact on the program's chances of getting into the mix for Tackett, it was the hire of Kansas City Chiefs linebackers coach Matt House that helped catapult the Tigers into the mix for one of the nation's best linebackers.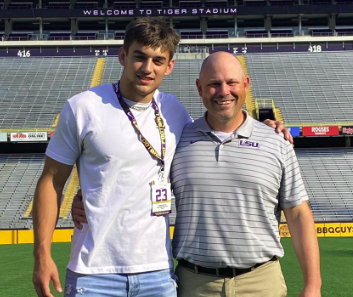 House, who won a Super Bowl with the Chiefs, has already been a defensive coordinator in the Southeastern Conference with Kentucky in 2017 and 2018. He also had coordinator stops at Pittsburgh and Florida International. Now tasked with leading LSU's defense, House took over the primary role in recruiting Tackett to Baton Rouge – with his big splash coming during Friday's in-person visit on campus.
"Coach House was the highlight of the trip for me," Tackett said. "The type of person he is and the passion he was showing for wanting me, and just the energy he had wanting to get me, it was huge. He never left my side. He was with me the whole day. He wanted to show me what LSU was about and why they wanted me so much. It was just really good being around him. And he's passionate. I mean, he's jumping around the room and punching on me. It was great. He's coming after me hard and wanting to build a relationship."
When five-star linebacker Harold Perkins picked the Tigers on National Signing Day, he circled his talks with House as a key factor in the decision, which was made even more impressive by the reality that most of their conversations had happened over Zoom calls as he finished up his playoff run with the Chiefs.
"I can definitely tell why [Perkins] would want to play for Coach House," Tackett said. "Being in the film room with him for that hour, he was going over technique and tackling and what he teaches. He talked about how he would teach through fundamentals …all the drills that will make you into a great player. And the knowledge of the game he wants to teach me, it jumped out. He wants me to be prepared for the NFL. And he used to be the person on the other side of the table when draft prospects met with NFL teams, so he knows how to get there. He said if I come to LSU and allow him to coach me, I would be prepared."
Many High's head coach, Jess Curtis, shared the same excitement over the addition of House, and not just for Tackett, but for future prospects on Many's roster. Case in point, Many High has the nation's No. 4 safety and No. 35 overall prospect for the 2024 class in four-star Tylen Singleton.
"Coach House first came by during the spring," Jess said. "And really, he's just a great guy. He came in and asked for us to come down to Baton Rouge and talk ball and give him an opportunity to show the plan and vision for Tackett. And from that first meeting, we really liked him. He's an excellent coach. He's a DC who has coached at the highest level. We could tell by our session with him about how passionate he is with the knowledge he has. It was a great visit when he came to Many and a great visit [Friday]. For the fans that don't know Coach House yet, he's just a great guy and a great coach. For me, my highlight of the trip was talking ball with House and hearing Kelly's pitch about what he wants and what he wants LSU to be. He said all the right things. And that's important to me as a Louisiana high school coach."
As Curtis alluded to, another key piece to LSU's push has been Kelly's offseason focus on accountability, which had come to the forefront of the conversation when Kelly, assistants and players met with the media this spring.
"I was really impressed by Coach Kelly and his vision," Jess said. "He wants accountability and discipline in the program and wants to do it the right way. I've watched him from afar. Then you see him at LSU, and he's got the SWAT team for accountability and is focused on leadership. We've seen how he handled things with guys like Kayshon Boutte, and now things seem better than ever there. It just feels like a great hire."
Added Tackett: "I really liked Coach Kelly after the meeting we had with him [on Friday]. It was great. From talking with him, it seems like he is a great coach who will lead with accountability, and he gave examples of stuff he's done. You bring that to LSU with the athletes we have in Louisiana, you will get a good result."
As for the impact made on Friday beyond the conversations with the staff, Tackett left with a new view on LSU's program as a whole thanks to his first tour of the new locker rooms, nutrition center, weight rooms, upgraded indoor facility and meeting rooms, and more.
"I hadn't been there since all the new updates," Tackett said. "I had never seen any of that. They are definitely up there with the best facilities we've been to, up there with Michigan and Ohio State. The locker room is great, cafeteria is great, indoor is great, weight room is great. And the resources they have, that was huge. The nutritionists and sports scientists who personally do all the player's meals and work on body fat and different stuff like that. And I did a Zoom with [LSU strength and conditioning coordinator Jake Flint] because he was out of town. Those resources they have now are really in-depth, and they know I'm serious on that. It's really important to me, because I feel like it gives you an edge."
As the dust settles from what turned into a home run weekend for the Tigers, one thing is clear: any division that might have once stood between Many High and LSU had come to an end.
"We are excited," Jess said. "The doors are open. I mean, Coach House already called Tackett [Saturday] to follow up on the visit. So, it's ongoing. And it was good for both sides to just get in a room together and for us to see House and Polian, things like that. We just want open dialogue with them, so that's great."
As for what it all means moving forward in Tackett's recruitment, the Tigers will now lock in on battling for an official visit, which would give LSU's staff a three-day weekend to roll out the red carpet ahead of a summer decision.
So far, official visits are set for Wisconsin on June 3, Southern Cal on June 17 and Ohio State on June 24.
"Right now I am just figuring out official visit plans," Tackett said. "I will try to get one or two more in. I don't have anything nailed down yet, but there is a possibility now that I take one [at LSU]. And really, there is just one more weekend in June that I would be able to make an official visit on, and then it's a dead period in July. From there I want to be ready to commit. My plan is to take my officials in June, relax in July and get ready for a decision."
While the Tigers are understandably playing from behind given it was his first visit to campus in years, and even with a pair of Crystal Ball predictions are in on Ohio State, the door is now open for the first time with the home state team.
"Tackett's brother goes to school at LSU, my daughter went to LSU, and there are a lot of connections, so just having that option, and him making that visit on Friday, it was a good day," Jess said. "We can build on that. Whether they can catch these other teams or not remains to be seen, but they are making a damn good effort."
Tackett is the son of Moses and Leslie Curtis and the grandson of John and Pam Curtis and Warren and Ann Founds, all of Many.
Thanks to Shea Dixon for the article above, and thanks to Northwestern's David West for calling our attention to it.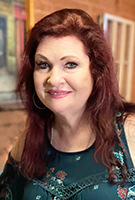 Pam Jennings has announced that she will be a candidate for Mayor of Robeline. Qualifying for the office will be July 20-22, and the primary will be held Nov. 8. She currently serves as an Alderman on the Village Council.
She is a native of Marthaville and the daughter of the late Mr. and Mrs. A. W. Jennings.
Ms. Jennings is very active and interested in the affairs of the Village of Robeline. She said a change in leadership is needed and she pledged to conduct an active campaign. We wish her the very best in this endeavor.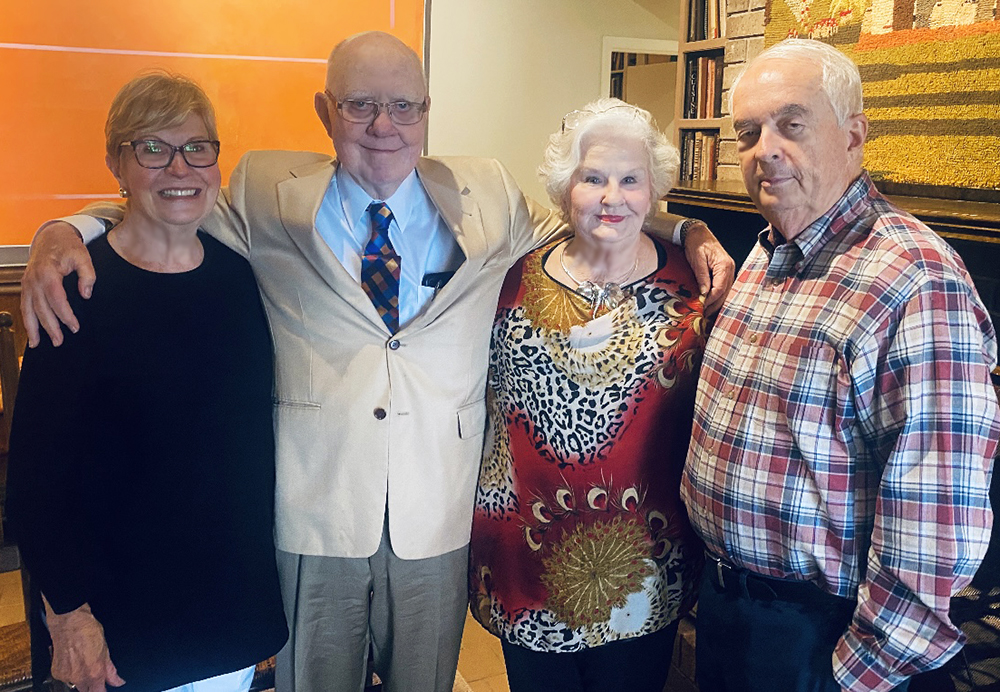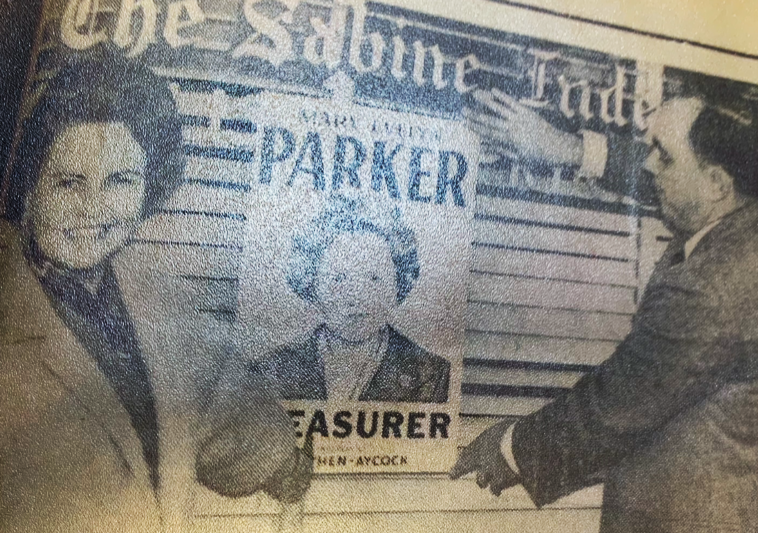 Raymond and Sandy Strother of Bozeman, Montana were honored Sunday night with a reception at the home of Thomas Whitehead in Natchitoches. Strother is a native of Port Arthur, Texas. I first met him when we were studying journalism at Northwestern in about 1959. Many years later he came back as a guest professor at NSU, then later retired from the university as the Erbon and Marie Wise Endowed Chair in Journalism. When he taught at Northwestern, my wife Laurie was fortunate enough to take classes under him.
Strother is said to have "invented" the political consultant business which changed the political campaigns of Louisiana forever. Later, using his instincts and political savvy, he became a leading strategist and consultant in American politics.
He wrote an autobiography entitled "Falling Up, How a Redneck Helped Invent Political Consulting" and has published a novel, "Cottonwood," about a political consultant who loses his soul.
I first met Strother when he came to Northwestern on a track scholarship. After two years, he said the NSU administration asked him to leave because of his political activities. He then went to LSU in Baton Rouge where he completed his Master of Arts degree in journalism. His 1965 thesis at LSU correctly predicted that in the future the outcome of political campaigns would depend more on media coverage and advertising than on traditional political organization.
In 1958 Gus Weill established the first advertising/pubic relations firm in Baton Rouge, and he groomed other public relations strategists who went into competition against him, including Strother. In 1980, Strother left Louisiana and moved to Washington, DC.
Looking back, Strother's first campaign management role was on behalf of Mary Evelyn Parker who was elected State Treasurer on Feb. 6, 1968. She won. In time, he became a consultant to the likes of Texas Sen. Lloyd Bentsen, Louisiana Senators Russell B. Long, John Breaux and Mary Landrieu, John Stennis of Mississippi, Gary Hart of Colorado, Al Gore of Tennessee and many others.
He worked for gubernatorial candidates Bill Clinton in Arkansas and John McKeithen and Buddy Roemer in Louisiana. In 1984 and 1988, he supervised the media campaign for Gary Hart's presidential bids.
Strother has been named to the LSU Journalism Hall of Fame, the American Association of Political Consultants Hall of Fame and the Louisiana Political Hall of Fame. In 1999, he was a resident fellow at the Institute of Politics at Harvard and in 2008 was named a fellow at the Robert J. Dole Institute of Politics at the University of Kansas.
Ray in the past few years has been battling prostate cancer which has now advanced to the bone. He and his wife, the former Sandy Peck of Port Arthur, remain positive and hopeful. They came to Natchitoches Saturday after an appointment at M.D. Anderson Hospital in Houston.
We again send Ray and Sandy our prayers and best wishes for peace and healing.

Picture From Life's Highway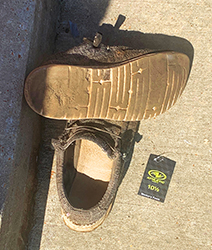 Saw this along the wall in front of Walmart in Many recently. Someone bought a new pair of size 10½ shoes, put them on and left their old ones behind.

Sheriff Mitchell Awards Scholarship to College-Bound Teen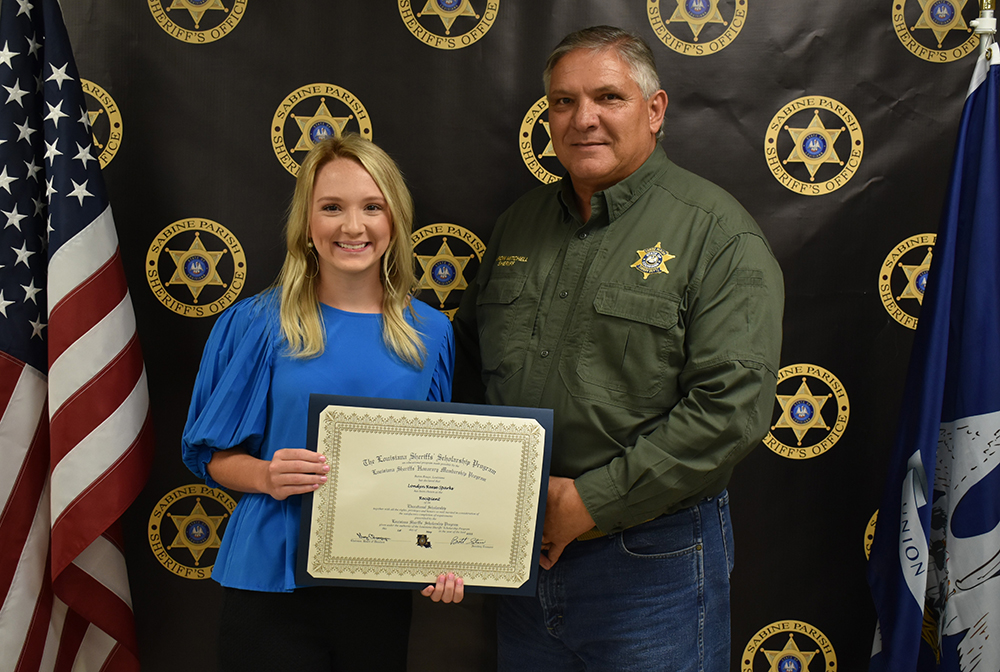 Sheriff Aaron Mitchell recently announced Londyn Reese Sparks of Sabine Parish has been named the recipient of an academic scholarship from the Louisiana Sheriffs' Scholarship Program for the 2021-2022 school year. She resides in Florien and plans to attend Northwestern State University and pursue Health Care/Dental Hygiene as a field of study. Her parents are Aaron Sparks and Ashley Craig Ross of Florien.
The Sheriff's Scholarship is made possible by the Louisiana Sheriffs' Honorary Membership Program (LSHMP). Louisiana Sheriffs provide scholarships to graduating high school students from each parish where the Sheriff is an affiliate of the Program.
Qualities such as academic achievement, leadership and character are considered in making selections of Sheriffs' scholarship recipients. The only limitations are that applicants be permanent residents of Louisiana; scholarships be utilized in higher education within the State; and students be enrolled as full-time, undergraduate students. Scholarships will be awarded in 64 parishes throughout the state.
In closing, Sheriff Mitchell said, "Academic awards by the Louisiana Sheriffs' Scholarship Program to Louisiana students demonstrate what the LSHMP is all about. This is one of our finest accomplishments. It invests in Louisiana's future and gives something back to our community. This would not be possible without the kind and generous support of Sabine Parish's Honorary Members."
(Special thanks to Det. D.W. Seegers for the article above.)

Excitement continues to build over the Campaign to Elect Verity Gentry 11th Judicial District Judge. Keep up with the latest campaign happenings on the campaign Facebook page, Gentry for Judge. Also visit gentry4judge.com to learn more about Verity, donate to her campaign or to get involved by joining Team Gentry.
Yard signs and t-shirts have been going like hot cakes. We hear more are on order to fill all the requests.

We are happy to learn local musician Buster Jordan and others are resurrecting the Ark-La-Tex Music Show founded by the late Rod Hopkins. Rod, a longtime dear friend, ran the show and performed on it with wife Fran and other talented folks for over 15 years.
The first, revived Ark-La-Tex concert is scheduled for Friday, June 24 at 7 p.m. at the Many Community Center [Sabine Theater] where Rod always hosted the show. Musical guests include singing emcee Buster Jordan, Ashley Giddings, Sarah Erwin and more.
The promo material promises "lots of surprises are guaranteed along with a FREE guitar to be given away." That was something Rod always did, and we're glad to see them continuing the tradition. Sabine has a lot of talent, and these type shows are important to not only provide wholesome, family entertainment in the area, but also for young talent to have a venue right here at home to hone their craft.
For auditions or show information, contact Buster Jordan at (318) 607-4484.

The Sabine Parish Library's Summer Reading Program starts soon. "Oceans of Possibilities" will run Friday, June 3 through Friday, July 15. The schedule is as follows:
Many Main Branch – Ages 0-2, Mondays, 10 a.m.; Ages 3-4, Tuesday, 10 a.m.; Ages 5-7, Wednesdays, 10 a.m.; and Ages 8-12, Thursdays at 1 p.m.
Other library branch summer reading program schedules are Toledo Branch and Zwolle Branch – Tuesdays, 1 p.m.; and Converse Branch – Tuesdays, 2 p.m.
Summer reading programs can be an important tool in young readers' development. It encourages reading to become a lifelong habit. Often, reluctant readers are drawn in by the program activities, and reading over the summer certainly helps children keep their skills up. Kudos to the parents, caretakers and young readers who take advantage of this great opportunity.
-30-
1
2
3
11
101
222
Next ›
Last »