Bill Pay Assistance
Entergy Louisiana has partnered with Louisiana United Ways to offer bill payment assistance on first-come, first-served basis to qualify residential customers across the state, with the application process expected to launch August 17. This will include the company's service territory in north, central, southeast and southwest Louisiana. This bill payment assistance is part of $10 million in shareholder donations previously announced by Entergy Corporation, with approximately $4.4 million being allocated to United Ways for benefit of Entergy Louisiana customers. Qualifying Entergy Louisiana electric customers in all parishes served by the company will be able to apply for a one time $150 credit to their utility bill through their local United Way. To qualify, customers must be Entergy electric customers and have a total household income not exceeding 250% of the federal poverty level, which equates to $69,000 for a family of four.
Burn Bans Lifted
Burn Bans in Bossier Parish and Natchitoches Parish have been lifted. Bossier Parish Police Jury President Tom Salzer and Natchitoches Parish President John Richmond credit recent rainfall as the reason for calling off the outside burning restrictions that have been in place in their respective parishes since last month. Still residents are urged to still take precautions when burning materials, whether in contained or open areas. Sabine Parish Sheriff's office reminds it's residents that Sabine Parish is still under a burn ban until further notice.
Sabine Parish Police jury announcement
Monday, August 15, Jolly Rogers Road will be closed starting at 8:30am until around 1pm. Sabine Parish Police Jury will be replacing a culvert. Traffic will be detoured through All Sock Road.
Beginning of School safety
Sheriff Aaron Mitchell and the Sabine Parish Sheriff's Office announce the beginning of the 2022 – 2023 Sabine Parish School Year on Wednesday, August 10, 2022. Sheriff Aaron Mitchell wants to remind you to watch for school buses and slow down in school zones and areas. Sheriff Mitchell, Chief Deputy Brad Walker, all School Resource Officers, Patrol Deputies, and the Sheriff's Special Operations Group, along with Sabine Parish School Superintendent Shane Wright spent the last two days performing safety assessments at all 7 school campuses in Sabine Parish. Sheriff Mitchell said the number one goal is keeping the children in the parish safe. Sheriff's Office Staff toured each school with its respective principal. Sheriff Mitchell and his staff have a close working relationship with the Sabine Parish School Board. All Sabine Parish Sheriff SROs are level 1 P.O.S.T. Certified Deputies and all have received training. Sheriff Mitchell said he wants his Deputies to have the knowledge and information necessary to avert any situation that could occur at Sabine Parish Schools. Sheriff Mitchell and his staff wish every student and teacher a safe and successful school year.
Fishing Gear Thief Arrested For More Charges
Sheriff Aaron Mitchell reports the arrest of Joseph Harrison Mott II (age-52) of Sulphur for additional theft charges. Mott had a lengthy history of burglaries and thefts in Southern Louisiana. 
Sabine Parish Sheriff Detectives have been investigating numerous reports of theft of fishing equipment around Toledo Bend Lake totaling thousands of dollars so far this year. 
Detectives had little evidence but were able to get a vehicle description which was seen in the area of some of thefts. 
Sabine Parish Sheriff Patrol Deputies amped up patrols around marinas and camps late at night. 
In the early morning hours of May 21, 2022, Deputy Jacob Bridges saw a vehicle matching the description and caught Mott pilfering through boats at a local resort. Mott's vehicle contained items that were reported stolen from another area that same night. 
Mott was arrested for several felony charges and bonded out of jail a couple of days later with a $30,542 total bond. 
After Mott's arrest, Detectives were able to obtain several pieces of digital evidence which revealed a pattern in some of the thefts. 
Then, on the weekend of July 23, 2022, more claims of theft of fishing equipment on the south end of Toledo Bend Lake were reported to the Sheriff's Office. It seems a vehicle fitting the same description was seen in area around the thefts. 
The vehicle is a white 2017 GMC Sierra 1500 4-door truck. 
Detective Don Flores was persistent in these cases, and he reached out to Calcasieu Parish Sheriff Detectives. Mott lives in Sulphur and Calcasieu Detectives were familiar with him. Detective Flores sent the information to Calcasieu Detectives and search warrants were obtained for Mott's residence, property, and vehicle in Sulphur, Louisiana. 
Sabine Detectives Shelly Sepulvado, D.W. Seegers and Flores traveled to Sulphur on the evening of July 27, 2022. 
Detectives, with the help of Calcasieu Parish Detectives, spent several hours searching Mott's property and house. 
Detectives located and seized over 70 rods, reels, and rod & reel combos. Detectives discovered and seized numerous boxes and bags of fishing tackle and baits, nets, life jackets, game cameras, binoculars, and other items. Detectives found and seized 9 firearms and countless boxes of ammunition. Mott is a convicted felon and cannot possess a firearm. 
Some of the fishing items were positively identified by victims of thefts at Toledo Bend Lake. 
Mott was taken into custody and arrested. His vehicle was also seized and searched. More rod & reels and fishing tackle were located inside his truck. 
Mott was booked into the Calcasieu Correction Center for 9-counts of Possession of firearm by a convicted felon and Illegal Possession of stolen things $1000-$5000. Mott's bond was set at $55,000. 
Detective Flores obtained additional arrest warrants for Mott based on some of the identified stolen items found in his possession. 
Mott bonded from jail in Calcasieu Parish and was transferred to Sabine Parish on Wednesday, August 3, 2022. 
Mott was booked into the Sabine Parish Detention Center for 2-counts each of Theft $1000-$5000 and Criminal Trespass. Mott's bond was set at a total of $30,500 and he bonded on August 5, 2022. 
Detectives said Mott is a prime suspect in the thefts and burglaries along Toledo Bend Lake, Sam Rayburn Lake and possibly southwest Louisiana. 
If you have had any fishing items taken from you camps or boats, please report detailed descriptions of the items to your local law enforcement agency. 
Chief Deputy Brad Walker greatly thanks Sheriff Tony Mancuso and the Calcasieu Parish Sheriff's Office for their help and cooperation in this investigation. 
Shreveport police issue warrant for carjacking
Shreveport police have issued an arrest warrant for a Shreveport man wanted for carjacking, cutting and stabbing another man Monday night. Jacob H. Boykin, 27, is wanted for second-degree robbery. Police accuse Boykin of carjacking a man who was giving him a ride. Boykin allegedly forced the driver from his vehicle at the intersection of Fairfield and Olive then drove away. In a news release, police said the driver was stabbed in the neck. However, a family member told KTBS the victim had his throat cut and her was stabbed three times in the abdomen. And while police describe the victim's injuries as non-life threatening, the victim's brother said otherwise. "If not for help from others to get him back to his house 2 blocks away, Shreveport EMS & the medical staff at Oschners then I would have lost my brother," the victims brother said in an email. The victim's car, a Toyota Camry with Louisiana license plate number 891ACC, has not been recovered. Anyone with information on Boykin's whereabouts, is asked to call Shreveport Police at 318-673-7300 ext. 3. To supply information anonymously, call Caddo Crime Stoppers at 318-673-7373
Police can't search homes without a warrant just because they smell marijuana, proposed law says
A proposal banning law enforcement from using the odor of marijuana as probable cause to search someone's home was approved by Louisiana legislators.
Rep. Marcus Bryant's bill, which already gained approval in the House last month, was approved by Senate lawmakers Thursday.
Current law allows officers to justify a warrantless search of a residence if they can smell marijuana.
https://www.wjtv.com/news/regional-news/new-louisiana-marijuana-laws-in-effect-aug-1/
NSU Music Academy accepting applications
The NSU Music Academy is accepting applications for the fall semester. The academy is under the direction of Northwestern State music faculty Dr. John Price and Dr. Francis Yang and offers piano, guitar, percussion and voice lessons for students from age six as well as adults. Lessons are taught face to face or online. Teachers at the academy are graduate and undergraduate music students studying at Northwestern State University.
Piano teachers are David Paz, Hannah Potter, Karla Gonzalez and Kamryn Purdue. Naydu Daza Maya is teaching guitar and Jackson Forester is teaching percussion.  Valentina Alvarez and Ella Castro are the voice teachers.
Last semester, students performed in an end-of-semester spring recital in Magale Recital Hall. Many students also performed in the inaugural NSU Music Festival held in February. This semester, students have the opportunity to perform in a Monster Concert during Halloween season and a Christmas Concert. Students in past years also participated in the National Federation of Music Clubs Festival, the Central Music Teachers' Association Sonatina Festival and the Louisiana Music Teachers Association Upper Elementary Auditions.
For further information, contact Francis Yang at yangf@nsula.edu or John Price at pricejo@nsula.edu.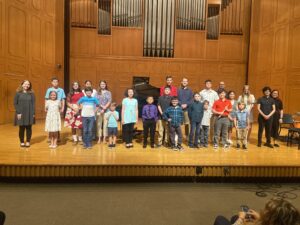 Oakdale police searching for attempted murder suspect
The Oakdale Police Department is searching for a man suspected of attempted second-degree murder.
Police say Malcolm Pugh, 21, should be considered armed and dangerous.
Anyone with information about Pugh's whereabouts is asked to contact Oakdale police at (318) 335-0290.
https://www.kplctv.com/2022/08/06/oakdale-police-searching-attempted-murder-suspect/
Shelby County Sheriff's Office Asking for Help Identifying Funeral Home Burglary Suspects
A funeral home in Center was ransacked Friday night. Officials are asking the public to share information if they saw anything suspicious.
The Shelby County Sheriff's Office says Watson & Sons Funeral Home on Highway 7 East was ransacked between 8:30 p.m. Friday and 8:30 a.m. Saturday. Unknown subjects entered each office, went through all items and damaged two vehicles on the property. The subjects took multiple items from each office.
If you have any information on the subjects involved in this case, or if you saw anything suspicious, contact Investigator Chad Hooper at (903) 598-5601 or (936) 572-5045.
https://www.ksla.com/2022/08/06/shelby-county-sheriffs-office-asking-help-identifying-funeral-home-burglary-suspects/
Silsbee Woman Killed in Crash Involving 18 Wheeler
The Texas Department of Public Safety is reporting that a woman from Silsbee died in a tragic auto accident involving an 18 wheeled tractor trailer truck that occurred on Saturday between Lumberton and Silsbee on Highway 96.
Troopers said a preliminary crash investigation indicates that at approximately 1:00 p.m.; a 2014 Kia Soul was traveling north and had slowed for a vehicle turning right. A 2001 northbound GMC pickup moved over onto the improved shoulder then swerved back to the left, striking the Kia. The Kia was then struck by a northbound 2006 Peterbilt truck tractor semi-trailer.
A passenger in the Kia, 36 year old Laura Whitfill of Silsbee was pronounced dead at the scene by a Hardin County Justice of the Peace. The driver of the vehicle, Benjamin Whitfill, 41, also from Silsbee and an 8 year old child were injured and taken to a hospital in Beaumont, where they were at last word, still undergoing treatment.
The driver of the GMC is identified as Freddie Smith, 75, from Lumberton was also transported to St. Elizabeth Hospital.
The driver of the Peterbilt is identified as Christopher Caraway, 50, from Silsbee was not injured during the crash.
https://www.kjas.com/news/local_news/article_40b19c10-164d-11ed-b8cb-3b7253afbfec.html
Tributes pour in after former Louisiana congressman Buddy Leach dies at 88
 Former Louisiana congressman and longtime state lawmaker Buddy Leach died Saturday (Aug. 6) in Baton Rouge at age 88, family members said.
Tributes for the former chairman of the state's Democratic Party began pouring in Sunday, including a statement from Gov. John Bel Edwards, who called Leach "a friend, a mentor and a true gentleman."
"Buddy Leach dedicated his life to serving our great state," the governor said in the statement. "From the Louisiana Legislature to Congress to his many civic contributions, Buddy worked to make life better for all Louisianans.
"When I decided to run for governor, he was one of the first people to encourage me. In addition to being a strong leader, he also had a heart for giving back and generously supported the efforts of Donna's Louisiana First Foundation to enrich the lives of children. He was a friend, a mentor, and a true gentleman. Donna and I are praying for his family and all who were blessed to know him."
https://www.ksla.com/2022/08/07/tributes-pour-after-former-louisiana-congressman-buddy-leach-dies-88/
Woodville Driver Involved in a Polk County Crash
A Woodville woman was involved in a late Thursday afternoon crash in Polk County. It happened shortly after 4:00 on Highway 190 in the Indian Springs Community, about 10 miles east of Livingston.
Polk County Today is reporting information from the Texas Department of Public Safety that says Angela Vanek, 45, of Livingston, was driving eastbound in a 2013 Ford F-250 pickup truck when she stopped and waited for traffic to pass before making a left turn.
The report said Jessica Haygood, 35, of Woodville, was driving a 2014 GMC pickup truck which side-swiped the driver's side of Vanek's vehicle.
According to the report, the impact caused Vanek's truck to roll upside down, while Haygood's truck went off the highway and collided with trees.
The report said both drivers as well as a child in Vanek's vehicle were all transported to the Livingston hospital for treatment.
https://www.kjas.com/news/local_news/article_ded05d58-14e7-11ed-b71e-2727d25359c7.html
Affadavit: Nacogdoches Man Arrested for Setting Fires, Badgering Deputies
Deputies in Nacogdoches County have arrested a man for setting a series of fires in the woods and throwing trash can lids at cars, according to an affidavit.
Enoc Morua Juarez, 34, was booked in the Nacogdoches County Jail on Aug. 3 and is being held on charges of arson and public intoxication. As of Thursday evening, bond has not been set.
Sheriff's Office deputies were dispatched to the 1100 Block of CR 521 at about 8:20 p.m. in response to a disturbance. An affidavit states they learned Juarez was in the road throwing trash can lids at passing cars, and he ran into nearby woods when they arrived.
According to the affidavit, he reportedly told deputies to chase him and began setting fires in the woods. The affidavit states deputies and bystanders put out the fires, and Juarez was eventually taken into custody without incident. He was booked just after 10:30 p.m.
https://www.kltv.com/2022/08/04/affidavit-nacogdoches-man-arrested-setting-fires-badgering-deputies/
Back to School Tax Free Weekend in Texas is Friday, August 5, Saturday, August 6 and Sunday, August 7
The Texas Comptroller's Office is reminding residents that the 2022 Back to School Tax-Free Holiday is this weekend, beginning at midnight on Friday morning and ending at midnight on Sunday night.
The Comptroller's Office says the tax free holiday applies to the most common items for students going back to school, such as clothing, footwear, school supplies, and backpacks that are priced below $100.00.
https://www.kjas.com/news/local_news/article_4628a2a2-1435-11ed-abeb-172e226201ff.html
Center for Reproductive Rights files writ with La. Supreme Court
On Thursday, August 4, the Center for Reproductive Rights and the Boies Schiller Flexner Law Firm filed an emergency writ to the Louisiana Supreme Court, asking the court to reinstate a preliminary injunction blocking the state's trigger bans on abortion.
Those bans took effect on Monday, August 1, after a state appellate court ordered the district court to lift the preliminary injunction it had issued.
As it stands now, abortion is currently unavailable in Louisiana.
An attorney representing the Center for Reproductive Rights argued that the bans must be blocked while the case is litigated in court.
https://www.kalb.com/2022/08/04/center-reproductive-rights-files-writ-with-la-supreme-court/
Firemen Respond Office at the Jasper Newton County Health District
The volunteers of the Jasper Fire Department were dispatched to the offices of the Jasper-Newton County Public Health District at 139 West Lamar Street in Downtown Jasper, shortly before 5:00 on Thursday afternoon, when it was reported that an electrical problem had occurred causing the smell of smoke throughout the building.
The firefighters soon arrived and found that all of the employees of the Health District had been evacuated and were safe and sound.
A short time later Jasper Fire Chief Brandon Duckworth, who also serves as the city's fire marshal said he had determined that an electrical outlet strip had shorted out, causing the smoke. The strip was unplugged and no actual fire, damage or injury resulted from the incident.
https://www.kjas.com/news/local_news/article_952811a2-144a-11ed-b896-3363a6be6c67.html
Four incoming freshmen awarded Poche Scholarships
Poche Scholarship: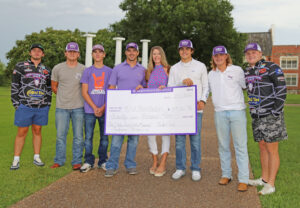 Burt and Shelley Poche, center, presented a donation to the NSU Foundation that funds scholarships for incoming members of the NSU Fishing Team and also provides support to the Fishing Team for travel and expenses.  Funds are generated through the annual Dylan Kyle Poche Memorial Fishing Tournament. From left are Fishing Team member Austin Speer, incoming freshmen Clayton Page, Stone Smith, Mr. and Mrs. Poche, Evan Howe, Noah Trant and Fishing Team member Andrew Straughan.
Missing Colorado Teen Possibly with Natchitoches Man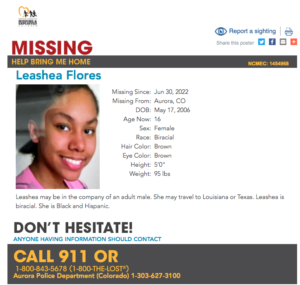 The family provided the following photos to help identify Flores.
If you see her, call 911.
Family members say she may be in the company of this man, whom she met online.
Anyone with information as to Flores' whereabouts should call 911.
Wildfire in Southern Polk County 95% Controlled Thursday Night
The Polk County Office of Emergency Management says firefighters have been working for hours to contain an approximately 250 to 260 acre grass and woods fire in southern Polk County.
Fire officials say fire behavior is low and forward progression has been stopped at this time. It is 90% to 95% contained tonight, they say.
Fire officials say they suspect that lightning started the fire.
1
2
3
11
101
197
Next ›
Last »