Classic on the Cane Marching Contest to be held Oct. 30
The Spirit of Northwestern Marching Band will host the annual Classic on the Cane Marching Contest on Saturday, Oct. 30 at Turpin Stadium. Competition begins at 10:30 a.m. The Spirit of Northwestern Marching Band will perform at 6:15 p.m. The Awards Ceremony is at 6:30 p.m. Tickets are $8 and can be purchased at
https://www.eventbrite.com/e/classic-on-the-cane-marching-contest-tickets-189667359177
. Interim Director of Bands Dan McDonald said 26 high school bands from Louisiana will take part in one of the state's top showcases for high school marching bands. Schools competing in class IB are Rosepine, Many, Pickering, Buckeye and DeQuincy. Class 1A participants are Sterlington, Franklin Parish, Brusly and Assumption. Those competing in Class II are Central, Ruston, Ouachita, Byrd and Iowa. Class III participants are West Ouachita, E.D. White, North Vermillion, Acadiana, Haughton, East Ascension, Tioga and Zachary. Schools competing in Class IV are Airline, Parkway, Southside, Denham Springs and West Monroe. For more information, go to capa.nsula.edu/blog/2021/04/20/classic-on-the-cane-2021/.
Evadale Store Robbed at Gunpoint
Jasper County deputies are investigating a late Wednesday night armed robbery of an Evadale store.
Chief Deputy Scotty Duncan says it happened shortly after 11:00 at the Get N' Go Food Mart on FM 105 just south of Highway 96.
Duncan said two unknown male suspects had their faces covered and were wearing gloves when they robbed the clerk at gunpoint, and got away with an undetermined amount of money. Fortunately, the clerk was not injured.
As of Thursday Duncan said they had no leads as they continued to investigate.
https://www.kjas.com/news/local_news/article_eb2b3f96-3289-11ec-a49d-631ee18120f1.html
Great Pumpkin Movie
'Spooktacular' October comes to an official end in Many on Friday, Oct. 29 with Trick or Treating with the merchants on San Antonio from 3-5 p.m., Trick or Treating in the neighborhoods of Many from 5-7 p.m. and a big Trick or Treat Party  and  Halloween movie at the Many Community Center that begins at 7 p.m.
It's the Great Pumpkin, Charley Brown  movie is a classic Halloween movie that will delight the children and the rest of the family.
Lucy and Linus visit the pumpkin patch to find a pumpkin. Lucy selects the largest they can find, and makes Linus carry it back to the house. He becomes upset when Lucy starts cutting it to make a jack o lantern. After the opening titles, Snoopy helps Charlie Brown finish raking a pile of leaves. Linus jumps into the heap with a large lollipop, resulting in leaves sticking to his face and lollipop.
Linus is writing his yearly letter to the Great Pumpkin,  and he insists that it will bring him presents despite disbelief of the other kids. Lucy follows Linus as he goes out to mail the letter, refusing to even help him and thus, leaving him to use his blanket to open the mailbox and let the letter float in. Charlie Brown shows up to announce that he was invited to a Halloween party .Lucy is skeptical about his invitation, assuming it was sent by mistake.
On Halloween night, the gang goes trick or treating.  Most dress as ghosts in simple white sheet costumes; Charlie Brown has "trouble with the scissors," leaving his costume full of holes.  On the way, they stop at the pumpkin patch to jeer at Linus for missing the festivities as usual.
During "tricks or treats," the kids get their goodies (except for Charlie Brown, who gets nothing except rocks). After going back to the pumpkin patch to tease Linus and Sally, the gang goes to the Halloween party.
Linus and Sally are still in the pumpkin patch. When Linus sees a mysterious shadowy figure (which turns out to be Snoopy) rising from the moonlit patch, he mistakes it for the Great Pumpkin and faints. When Linus wakes, Sally furiously yells at him for making her miss the Halloween festivities when Charlie Brown and the others come to get her. As they leave, Linus, still adamant that the Great Pumpkin will materialize, promises to put in a good word for them if it comes. He then panics, since he said if instead of when. At 4 a.m., Lucy realizes that Linus is not in his bed. She finds her brother in the pumpkin patch, covered by his blanket, shivering and half asleep. She brings him home, takes off his shoes, and puts him to bed.
The next morning, Charlie Brown and Linus lean against a bridge wall and commiserate about the previous night. Charlie Brown attempts to console Linus by explaining that he has done many stupid things too. Hearing that makes Linus snap, and he vows that the Great Pumpkin will come to the pumpkin patch next year;
As always the movie is free, and concessions will be free for this Halloween party.  The theatre door will open at 6:15.
Mayor Robert Hable, the Cultural District Advisory Committee, and the Many City Council sponsor Movies in Many.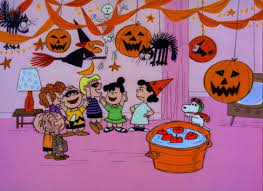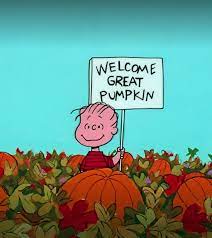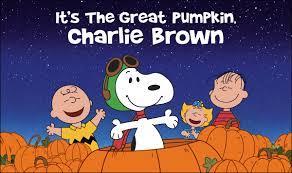 Longview Man Dies in 3-Vehicle Wreck Involving Log Truck in Trinity County
The Texas Department of Public Safety (DPS) is investigating a fatal crash involving three vehicles on State Highway 94, approximately one mile north of Farm-to-Market Road 3317, near Groveton.
The preliminary investigation indicates that at approximately 6:05 a.m., a 1995 Chevrolet pickup was traveling westbound on SH 94, followed by a 2017 Dodge Ram pickup. A 1989 Mack truck tractor semi-trailer hauling logs was pulling out from a private drive to travel east.
The driver of the Mack failed to yield right of way, resulting in the Chevrolet and the Dodge striking the trailer being towed by the Mack.
The driver of the Chevrolet has been identified as 47-year-old Vernon Groze of Longview, was pronounced deceased on scene by a Trinity County Justice of the Peace.
The driver of the Dodge has been identified as 38-year-old Bradley McMullen of Kennard was transported to Crockett Medical Center for treatment.
The driver of the Mack has been identified as 54-year-old Richard Ellis of Corrigan was not injured.
The investigation is ongoing, no further details at this time.
https://www.ktre.com/2021/10/21/sh-94-trinity-county-open-again-after-3-vehicle-wreck-involving-log-truck/
LOUISIANA DEPARTMENT OF VETERANS AFFAIRS TO HOST DESERT STORM 30TH ANNIVERSARY COMMEMORATION
The Louisiana Department of Veterans Affairs will host the Desert Storm 30th Anniversary Commemoration on Friday, Oct. 29 at 11 a.m. in the courtyard of the Pentagon Barracks in Baton Rouge. Major General Bennett Landreneau, former adjutant general of the Louisiana National Guard, will be the keynote speaker at the ceremony followed by lunch on the grounds.
"It is our great honor to recognize Louisiana's Desert Storm veterans upon the 30th anniversary of that conflict," said LDVA Secretary Joey Strickland, COL (USA Retired). "Each Desert Storm veteran who attends the ceremony will be honored individually for their service and sacrifice to our great nation."
Joining Secretary Strickland and MG Landreneau are Lt. Gov. Billy Nungesser, Major General Keith Waddell, House Speaker Clay Schexnayder and a host of elected and military officials. Aside from the ceremony and luncheon, staff from the Louisiana National Guard's Jackson Barracks Museum in New Orleans will host a mobile Desert Storm exhibit complete with textiles and memorabilia.
Operation Desert Storm was the first major foreign crisis for the United States after the end of the Cold War beginning on Jan. 17, 1991 as a 42-day U.S.-led air offensive. Approximately 697,000 U.S. troops took part in the war of which 299 lost their lives. From the Louisiana National Guard, 1,812 soldiers from nine units deployed with another 6,600 LANG soldiers federally mobilized.
Please RSVP to veteran@la.gov by Sunday, Oct. 24 to attend in person. If individuals cannot attend the event in person, it will be streamed live via LDVA's Facebook page and via Zoom at https://us06web.zoom.us/webinar/register/WN_eAqIiEazQ7e4hD6lnFOAQg.
For more information about the commemoration or LDVA, visit vetaffairs.la.gov, email veteran@la.gov, call 225.219.5000 or follow us on Facebook, Instagram or Twitter.
http://www.westcentralsbest.com/todays_country_1057/news/louisiana-department-of-veterans-affairs-to-host-desert-storm-30th-anniversary-commemoration/article_8ec8aa84-327c-11ec-8a25-5f24db600dd0.html
Louisiana State Penitentiary Hosts Fall Arts & Crafts Show
Louisiana State Penitentiary will host its first Fall Arts and Crafts Show at the prison on December 4, 2021, from 9 a.m. – 2 p.m. The show is a family event featuring food, fun, and inmate-made hobby crafts. Some of the items for sale include handmade jewelry, leathercrafts, paintings, bar-b-que pits, purses, belts, swings, rocking chairs, and tables.
The event was created this year as an alternative to the Prison Rodeo, which has been cancelled the past two years due to the pandemic. The Rodeo is a tradition that is always looked forward to by the prison population, their family members, and the general public. The show is a scaled down opportunity to maintain those connections which supports overall stability within our prison population.
"This is going to be a special event, both for our prison population and the general public," said Secretary Jimmy Le Blanc, Louisiana Department of Public Safety and Corrections. "Because of waning infection rates and increasing vaccination rates inside our state prisons, we have been able to reopen prisoner visitation and now are able to open the prison to the public. For two years, COVID-19 has forced the cancellation of the world famous Angola Prison Rodeo, which has never happened in the Rodeo's 57 year history.
Tickets for the show are $5 and go on sale Monday, October 25, 2021, at www.angolarodeo.com. Tickets are also available at the gate on the day of the festival.
Tickets are required for ages 14 and older, along with proof of vaccination. Currently, children under the age of 14 may not attend. However, this restriction is subject to change, which may allow children under 14 to attend free of charge. For more information and updates, visit the Rodeo website at www.angolarodeo.com.
Lubbock Doctor Dies After Being Hit by Train Near Merkel
A Lubbock doctor died after being hit by a train near Merkel, Texas on Wednesday around 10:30 a.m., according to the Taylor County Sheriff's Office. It happened between Merkel and Trent off of I-20.
The doctor, identified as Dr. Cy Daneshfar, of Lubbock, was in the area when his vehicle broke down. Deputies say they believe his death is accidental, but do not know why he walked up to the train tracks.
The incident happened about 1.5 miles west of Merkel, not at a train crossing.
Officials with Union Pacific say the train crew was not injured.
Dr. Daneshfar's body has been sent for an autopsy, however, no foul play is suspected, according to the Taylor County Sheriff's Office.
Dr. Daneshfar graduated from the Texas Tech University Health Science Center School of Medicine in 2018. He worked in Lubbock and specialized in Orthopedic Surgery.
https://www.kcbd.com/2021/10/21/lubbock-doctor-dies-after-being-hit-by-train-near-merkel/
Scot Kidd Takes Stand in his own Defense in First-Degree Murder Trial
The man accused of killing an elderly Iowa couple in the aftermath of Hurricane Laura took the stand in his own defense. He's charged with two counts of first-degree murder and will spend life in prison if found guilty.
Scot Kidd is charged with the murders of Joan and Zoren O'Brien in their Iowa home on August 28, 2020. Joan was 73 years old and Zoren was 81.
Kidd took the witness stand at 4:11 p.m. and admitted to shooting Zoren O'Brien with a shotgun. He says he did it after Zoren accidentally shot his own wife, Joan, in the head with the shotgun.
Kidd said Zoren was angry with him and that he grabbed the barrel of the shotgun to disarm Zoren. But then, Kidd says he fired the shotgun in self-defense when he thought Zoren was reaching for another gun. Zoren possessed numerous guns at his home in Iowa. Kidd testified after Joan had been shot, her legs were still moving. He testified he shot her in the chest because, "he couldn't do anything for her," implying it was like a mercy killing. Kidd said several times he cared about Joan O'Brien.
Earlier in the day, jurors heard audio of a law enforcement interview with Kidd during which he repeatedly denied he was near or inside the O'Brien home at the time of the killings. That interview lasted two hours and forty minutes. He was on the witness stand for nearly an hour and a half.
On the tape and on the stand, Kidd denied selling jewelry that belonged to Joan O'Brien.
The trial resumes at 9 a.m. when the state will put on rebuttal.
https://www.kplctv.com/2021/10/21/scot-kidd-takes-stand-his-own-defense-first-degree-murder-trial/
Woods Drug Arrest
Cardetrick Eudarris Woods (age-43) of Many was arrested yesterday afternoon at his home on Sabine High Street.
Sabine Parish Sheriff T.N.T. Agents have been investigating Woods illegal narcotic activity since February 2021. Agents were able to obtain a search warrant for his residence and property.
The newly formed Sabine Parish Sheriff's Special Operations Group (SOG) was utilized to execute the search warrant and make entry into the home of Woods. The operation was successful, and no civilians or deputies were harmed.
T.N.T. Agents and Detectives located and seized approximately 23 grams of suspected methamphetamine, two digital measuring scales, and a glass smoking device.
Woods was booked into the Sabine Parish Detention Center for Possession with intent to distribute schedule II (Meth), Possession of drug paraphernalia, warrant for 3 counts of Distribution of schedule II (Meth), and warrant for 1 count of Distribution of schedule I (Synthetic Cannabinoids).
Bond was set at a total of $40,000 by the 11th Judicial District Court.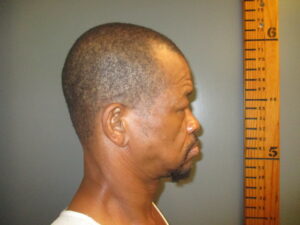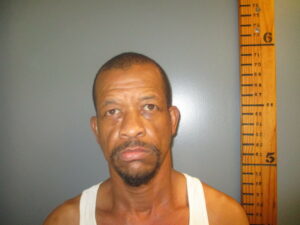 Accused Lufkin Walmart Shoplifter Caught in Cooler
 Lufkin police officers found meth on a man accused of shoplifting at Walmart Tuesday evening. He also allegedly ran from police and fled into a cooler, according to the LPD media report.
Tyler Todd Mezger, 26, of Diboll, is still being held in the Angelina County Jail on charges of theft of property less than $1,000 with two previous convictions, four counts of possession of drug paraphernalia, a capias warrant for no driver's license, a capias warrant for public intoxication, a capias warrant for criminal mischief less than $100, evading arrest, criminal trespass, and possession of a controlled substance between 1 and 4 grams.
Collectively, Mezger's bond amount has been set at $15,016.
According to the Lufkin PD media report, store employees caught Mezger shoplifting at the Walmart store located at 2500 Danial McCall Drive. The incident occurred at about 6:07 p.m. Tuesday.
After Lufkin PD officers arrived at the scene, Mezger allegedly ran to the back of Walmart. He fled into a cooler, the media report.
LPD officers wound up using an electric shock device on Mezger. After that, they took Mezger into custody without any further incident.
https://www.ktre.com/2021/10/20/accused-lufkin-walmart-shoplifter-caught-cooler/
Authorities Arrest Two and Still Searching for Third Suspect Accused of drive-by shooting
Two men have been arrested and one is being sought by authorities after being accused of a drive-by shooting in Vinton, according to the Calcasieu Parish Sheriff's Office.
Spokeswoman Kayla Vincent says deputies were dispatched to a store on Hwy 109 in reference to the shooting around 6:30 p.m. on Oct. 18, 2021.
Deputies say the victim told them he was leaving the store when he saw a truck driving by. He told deputies he saw shots being fired from the truck after it pulled back onto the highway and passed the store a second time. Bullets struck the victim's truck and a second truck several times during the shooting.
According to deputies, the victim identified one of the individuals in the truck as Jervon J. Broussard, 24, of Lafayette.
After further investigation, deputies say they were able to identify two other suspects inside the truck as Brison J. Thibodeaux, 28, of Broussard, and Dillon J. Derousselle, 19, of Carencro.
Detectives were able to locate and arrest Broussard and Thibodeaux the next day. Meanwhile, a warrant has been issued for the arrest of Derousselle.
Both Broussard and Thibodeaux were booked into the Calcasieu Correctional Center for illegal carrying and discharging of a weapon as well as aggravated property damage. Judge Michael Canaday has set Broussard's bond at $210,000 and Thibodeaux and Derousselle's bond at $300,000.
Authorities ask anyone with information on Derousselle to call them at 491-3605 or Crime Stoppers at 439-2222.
https://www.kplctv.com/2021/10/20/authorities-arrest-two-still-searching-third-suspect-accused-drive-by-shooting/
Failure to Stop at Stop Sign Results in Fatal Crash in Bossier Parish
 Louisiana State Police are investigating a two-vehicle crash that occurred just after 11 a.m. on Wednesday, Oct. 20.
The incident occurred at the intersection of La. Highway 527 and Fairview Point Road.
Investigation shows that a 2006 Mazda Miata driven by Iris Dixon, 64, of Ringgold was travelling north on Fairview Point Road. At the same time, a 2005 Dodge pickup, driven by Robert Cheatwood, 61, of Elm Grove, was travelling east on La. Highway 527.
Officials say Dixon failed to stop at a stop sign and was struck by Cheatwood. Dixon was wearing her seatbelt but suffered fatal injuries. She was pronounced dead on the scene.
Cheatwood was also wearing a seatbelt and was treated for non-life-threatening injuries.
The crash remains under investigation, however, impairment is not suspected to be a factor.
https://www.ksla.com/2021/10/21/failure-stop-stop-sign-results-fatal-crash-bossier-parish/
Jasper Police Investigating a Theft From Tractor Supply
Jasper Police Lieutenant Garrett Foster said Wednesday that officers are investigating a theft from Tractor Supply, located on Highway 190 at 96.
Foster said the suspect stole a mini-bike and a small all-terrain vehicle, and apparently exited the building with the items out of a back or side door.
The crime was reported on Wednesday morning and remains under investigation.
https://www.kjas.com/news/local_news/article_e1316918-31ec-11ec-8596-9359042e671b.html
Joaquin Woman Gets 10 Years in Stabbing Death of Husband
Tuesday, a Joaquin woman pleaded guilty to manslaughter and received a 10-year prison sentence.
Lisa Cordova was accused of the March 5, 2017 stabbing death of her husband Michael Lane Cordova.
"Lisa stated Michael was abusive to her and kicked her out of the bed," according to a press release. "She stated she then grabbed a knife from the top of a nearby cabinet and stabbed the knife toward Michael." Lisa Cordova also told the SCSO deputies that her husband said, "You got me." She also told authorities that she went to watch television after it appeared that Michael Cordova was done fighting, the press release stated.
District Attorney Karren Price had no comment except to say this was a plea agreement reached by the previous administration of Stephen Shires.
https://www.kltv.com/2021/10/20/joaquin-woman-gets-10-years-stabbing-death-husband/
NSU Theatre and Dance to have world premiere of "In Memoriam of Lena"
NSU Theatre and Dance will premiere the Del Shores play "In Memoriam of Lena" on Nov. 3-7 and Nov. 10-16 in Theatre West. The play begins at 7:30 p.m. except on Nov. 7 when there will be a 2 p.m. matinee.
Reservations for paying patrons are required. Tickets are $15 and $12 for senior citizens. NSU, Louisiana School for Math, Science, and the Arts students are admitted free with a current I.D. Tickets can be purchased at https://www.eventbrite.com/e/in-memoriam-of-lena-tickets-191088138767 All NSU students and those receiving complimentary tickets should arrive to the box office early the day of the show. There will be a performance for all NSU Theatre and Dance patrons on Nov. 2 at 7:30 p.m.in Theatre West.
Masks will be required for all people inside the theatre throughout the show. There will be no intermission. The play contains strong adult content and language which may not be suitable for children under the age of 16.
In describing his play Shores ponders "Have you ever had that fantasy where you get to attend your own memorial service?"  In the dark comedy a very dead Lena Lewis quickly finds out that the fantasy is much better than the reality. Themes of forgiveness, deceit, betrayal and judgment, as well as the politics within the LGBTQ+ community are ripe in the play, which Shores is directing.
The cast is Antoni Rodgers of Covington as Lena, Jordon Thomas of Baton Rouge as Terrance, Rochanee Myles of Monroe as Billie, Sid Fish of Minden as Suz, Logan Dupuy of Prairieville as Ella, Liam Gardner of Gonzales as Brix, Trevor Van Eaton of Shreveport as Ashton, Mikiah Odum of  Marshall, Texas, as Aunt Sip, Grace Cummings of Calhoun as Julia, Robert McCandlish of Monroe as Mason and Mia Claire Huffman of Pineville as Jorie Dee.
Shores is the writer/director/producer of the films "Sordid Lives," "Blues for Willadean," "Southern Baptist Sissies" and "A Very Sordid Wedding."  He wrote and executive produced the MGM feature "Daddy's Dyin'…Who's Got The Will?"  His plays "Cheatin'," "Daddy's Dyin' (Who's Got The Will?)," "Daughters of the Lone Star State," "Sordid Lives," "Southern Baptist Sissies," "The Trials and Tribulations of a Trailer Trash Housewife," "Yellow," "This Side of Crazy" and "A Very Sordid Wedding" are all published by Concord/Samuel French.
In television, Shores wrote, directed, executive produced and created the LOGO series, "Sordid Lives: The Series." He also wrote and executive produced Showtime's groundbreaking "Queer As Folk" for the last three seasons, wrote and produced for "Dharma & Greg" and "Ned & Stacey."
He has directed Academy Award winners Octavia Spencer and Whoopi Goldberg, Grammy Award winner Olivia Newton-John; Emmy winners/nominees Beau Bridges, Delta Burke, Leslie Jordan, Bonnie Bedelia, Bobbie Eakes, Patrika Darbo and Rue McClanahan; Spirit Award winner Dale Dickey; Screen Actor's Guild Award-winner Beth Grant; as well as Caroline Rhea, Debby Holiday and David Steen.
As a performer, Shores has performed in hundreds of standup gigs and in 2018 completed a national tour of his critically acclaimed award-winning one-man play "Six Characters In Search Of A Play" directed by Emerson Collins.  The play was filmed and is now streaming worldwide. His 10th play "A Very Sordid Wedding" (based on his 2017 film) just had its world premiere in September playing to sold out houses at Kalita Humphries Theatre in Dallas for Uptown Players.
"In Memoriam of Lena" is his first world premiere with a cast of students. Shores said working with Northwestern State students has been rewarding.
"There is so much talent in this department," said Shores. "The students work hard, want to learn and I will keep coming as long as I'm asked.  I'm treated well by the administration and have made great friends here."
Shores has been associated with Northwestern State for four years. He worked with casting director Ryan Glorioso and NSU alumus on "Sordid Lives." Glorioso introduced Shores to Scott Burrell, who was then head if the Department of Theatre and Dance.
"Scott brought me in to speak to acting and writing students and hold an Acting For The Camera Workshop," said Shores. He then asked if I would be interested in being a guest artist for a three-week period, teaching Playwriting and Acting For The Camera.  This is my fourth year.  The exception this year is that Brett [Garfinkel, chair of Theatre and Dance] and Scott asked if I would be interested in writing an original play and direct the students.  I jumped at the chance, so this year is even more special."
Shores resides in Los Angeles and can be found at DelShores.com, facebook.com/delshoresofficial and @delshores on Twitter and Instagram.
Two Nurse Practitioner Concentrations at NSU Ranked in the Top Four in the Nation
Two nurse practitioner concentrations in the Master of Science in Nursing programs at Northwestern State University have been ranked in the top four in the nation by the website nursepractitioneronline.com.
The women's health nurse practitioner program was ranked third and the primary care pediatric nurse practitioner (PCPNP) concentration was ranked fourth.  The rankings considered the diversity of nurse practitioner programs offered, accreditation status, years of experience/tenure of faculty, annual tuition/fees in relation to the local cost of living, size of the institution's nursing department, acceptance rate and competitiveness of the institution and the graduation rate.
"The rankings reflect the hard work and dedication of the MSN faculty and students," said Dr. Angela L. Hardy, director of MSN and PNC programs at Northwestern State.  "Dr. Julie Gayle, women's health nurse practitioner coordinator, and Meredith Eastin, primary care pediatric nurse practitioner coordinator, have done a phenomenal job facilitating students through their perspective programs. NSU has strong nurse practitioner programs because the MSN faculty are compassionate, accessible and willing to go above and beyond to ensure the students and programs are successful."
According to Senior Director of Nursing and Chief Nursing Administrator Dr. Anna Norris, being nationally ranked brings NSU to the attention of potential students and recognizes the quality of our programs.
Hardy said MSN faculty serve as role models, mentors, collaborators and directors of learning to help students gain knowledge, skills, and competencies that help prepare them for the nurse practitioner role.
Students in both concentrations take the Master of Science in Nursing core courses, four clinical courses, clinical practicums, role courses, an advanced assessment course and pharmacotherapeutics in addition to, a course in family dynamics. The sequence of studies requires a minimum of 42 credits and leads to the MSN degree. Women's health nurse practitioner graduates will be eligible  to apply for the NCC Women's Health Nurse Practitioner certification examination and for other examinations as deemed appropriate by certifying bodies. The clinical sequence prepares advanced practice nurses in women's health nursing practice who can function in primary care settings with women of all ages.
Primary care pediatric nurse practitioner graduates will be eligible to apply for the National Certification Board of Pediatric Nurse Practitioners' Primary Care Pediatric Nurse Practitioner certification examination and for other examinations as deemed appropriate by certifying bodies. The clinical sequence will prepare advanced practice nurses in pediatric  nursing practice who can function in primary care settings with children of all ages.
For more information on nursing programs at Northwestern State, go to nursing.nsula.edu/nursing-programs.
Vernon Parish Animal Shelter Looking for Adopters
The Vernon Parish Animal Shelter will be closed November 1-5 for shelter staff to attend annual training. For the time being, they are looking to get as many animals adopted as possible.
The shelter on average receives a little over 100 animals per month. This, along with a short staff, has created some obstacles to finding these animals a welcoming home. Now, the staff of two must leave to attend their annual L.A.C.A. training in Baton Rouge, but they will be receiving help from the New Llano Fire Department.
"They'll have one firefighter come out and take care of the animals. So, we're just trying to make sure that we're not jam-packed for them when they come out," said Brittney Cryer, the director of the shelter. "We're really grateful and thankful that they're willing to do this for us and make sure these animals are properly cared for while we're gone."
It's worth mentioning that once you adopt an animal, it's the owner's responsibility to get the animal neutered. Most of the animals are strays, so you need to assume they aren't neutered. Also, the shelter does not do background checks, but they do keep a "Do Not Adopt List" for those who constantly adopt and return animals.
The staff said the goal is to find cats and dogs that have been at the shelter the longest to find a place to forever call home.
If you're interested in adopting an animal, the fee is five dollars for every day that the animal was at the shelter. If you'd like to know more about the shelter you can visit their Facebook page.
https://www.kalb.com/2021/10/20/vernon-parish-animal-shelter-looking-adopters/
WalMart to Leave Tricare Pharmacy Network Dec. 15
For those on Tricare who get prescriptions from the Walmart pharmacy, the Tricare Express Scripts page has a notification the effective December 15, 2021, Walmart pharmacies, including Sam's Clubs, will no longer be part of TRICARE's pharmacy network.
Beneficiaries can file a claim for a partial reimbursement of the cost of their medication when filling at a non-network pharmacy. More information can befound on Tricare.mil under Covered Services.
http://www.westcentralsbest.com/todays_country_1057/news/walmart-to-leave-tricare-pharmacy-network-dec-15/article_0a27bf80-31f1-11ec-a13f-bbc21b277953.html
Authorities Asking for Public's Help Locating Missing Singer Woman
The Beauregard Parish Sheriff's Office is asking for the public's assistance in locating a missing Singer woman.
McKenna West, 18, was last seen around 11 p.m. on Oct. 15, 2021.
She is an 18-year-old white female who was last seen wearing a white LSU t-shirt. She is known to drive a blue Hyundai Elantra.
The Sheriff's Office asks anyone who has seen McKenna to please contact them at 337-463-3281.
https://www.kplctv.com/2021/10/19/authorities-asking-publics-help-locating-missing-singer-woman/
Man in Well Case
New evidence and positive identification made in the "Man in the Well" case.
In 1984, Lester Rome (age-58 at the time) from Grand Isle, Louisiana was reported missing to Jefferson Parish authorities.
In April 1986, a Sabine Parish landowner discovered human skeletal remains in a water well on his property. Some of the skeletal remains were recovered at the time, but a positive identification was unable to be determined.
In October 2013, LSU Forensic Anthropology and Computer Enhancement Services (FACES) Laboratory made a possible connection with the remains from the well and Lester Rome. The skeletal remains had shotgun pellets embedded in the pelvic area. Rome had been shot in the abdomen area with a shotgun some years prior to when he went missing.
On December 10, 2020, former D.A. Investigator Ted Delacerda gave several news clippings and photographs about the case to the Sabine Parish Sheriff's Office.
In February 2021, with the current landowner's permission, Sabine Parish Sheriff Detectives attempted to recover more skeletal remains from the well by mechanical means but were unsuccessful.
In April 2021, with help from Central Sabine Fire Department's confined space entry team personnel, more skeletal remains and other items of evidence were recovered from inside the well.
On October 18, 2021, Sabine Parish Coroner Dr Mark Holder issued a Fact of Death Certificate stating the skeletal remains recovered from the well were those of Lester Rome. Next of kin has been notified.
Sabine Parish Sheriff Detectives are still investigating this case and searching for more information that may lead to the person(s) responsible for the death of Lester Rome.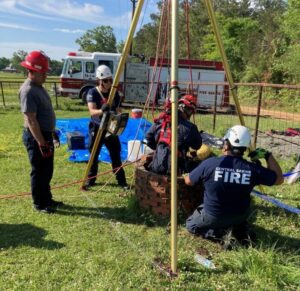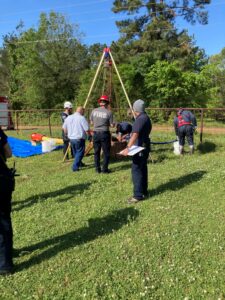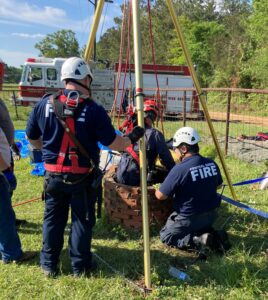 1
2
3
11
101
118
Next ›
Last »