**UPDATE**Louisiana State Police Investigating Deputy-Involved Shooting in Winn Parish
**
On May 25, 2022, shortly after 5:00 p.m. the Winn Parish Sheriff's Office (WPSO) requested that the Louisiana State Police Bureau of Investigations (LSP BOI) investigate a deputy-involved shooting.  The incident involved the Jackson Parish Sheriff's Office (JPSO) and occurred on U.S. Highway 167 near Dodson.  Detectives from LSP BOI responded to the scene. The preliminary investigation revealed that deputies with JPSO responded to a disturbance at the Forest Haven Nursing and Rehabilitation Center in Jonesboro. As deputies approached the facility, they observed the suspect   operating a vehicle that was leaving the scene.  The suspect was later identified as 53-year-old Abe Banks of Jonesboro.  Deputies attempted to stop Banks, but he refused to stop and a vehicle pursuit ensued.  The pursuit continued south on U.S. Highway 167 into Winn Parish.  During the pursuit, Banks' vehicle had a mechanical failure and stopped in the roadway. As deputies approached the vehicle, Banks did not comply with the deputies' commands.  During the incident, shots were fired and Banks was struck.  Banks sustained severe injuries and was transported to a local hospital where he ultimately succumbed to his injuries.  No one else was injured during the incident. The Louisiana State Police will serve as the lead investigative agency.  This remains an active investigation and further information will be released when it becomes available. See below for the original news release on May 25, 2022.
Winn Parish
– On May 25, 2022, shortly after 5:00 p.m. detectives assigned to the Louisiana State Police Bureau of Investigations were requested by the Winn Parish Sheriff's Office to investigate a deputy-involved shooting involving the Jackson Parish Sheriff's Office on U.S. 167 near Dodson. One subject is deceased. This is an active investigation and further information will be released when it becomes available.  Motorists should find an alternate route if traveling through the area.
Arrest Warrant Issued for Suspect in Death of Woman Found in Tyler Apartment
UPDATE: According to Tyler police, David Michael Thompson turned himself into Lindale police early Thursday morning.
Thompson has been booked into the Smith County Jail, according to judicial records. His bond was already set at $750,000 dollars on Wednesday.
PREVIOUS STORY:
Tyler police have obtained an arrest warrant for the suspect in the death of a woman who was found dead in an apartment on Broadway Avenue early Wednesday morning.
According to Tyler Police Department's Public Information Officer Andy Erbaugh, an arrest warrant for murder has been issued for David Michael Thompson, 49. Thompson's bond amount has been preset at $750,000.
Thompson is known to drive a white Jeep Wrangler with a black top that has the word "Privileged" on both sides of its hood. It has the Texas license plate HHH1538.
"He is to be considered armed and dangerous," Erbaugh said.
The victim has been identified as Jaci Wilkerson, 40, of Smith County.
At 3:15 a.m. officers responded to a homicide call at an apartment complex in the 2700 block of S. Broadway Ave., Erbuagh said. Upon arrival, they found a woman dead inside an apartment unit. Detectives said that a suspect is known, and they believe the suspect was known to the victim.
Wilkerson's body has been taken for an autopsy, Erbaugh said. He added that her family has been notified.
"This was not a random attack," Erbaugh said. "No suspects are in custody at this time. Detectives are still working this case. More information will be released as it is available."
https://www.kltv.com/2022/05/25/arrest-warrant-issued-suspect-death-woman-found-tyler-apartment/
BJACH Announces 2022 Memorial Day Weekend Schedule
BJACH has released their schedule for Memorial Day weekend –
On Friday, May 27, 2022, BJACH and most ancillary clinics will continue normal operations with the exception of the Soldier Centered Medical Home (SCMH) and Fontaine Troop Medical Clinic (FTMC) who will be open for sick call at 8 a.m. and will then have acute walk-in appointments only. The Outpatient Pharmacy will also close at 4:30 p.m., an hour earlier than normal.
BJACH will be closed, except for Labor and Delivery (call 337-531-3645 when you're heading in) and Emergency Departments on Monday, May 30 in observance of the federal holiday.
http://www.westcentralsbest.com/todays_country_1057/news/bjach-announces-2022-memorial-day-weekend-schedule/article_c0dc8e7e-dd34-11ec-9ac7-8712a20ccd2c.html
Husband of Teacher Killed During Texas School Shooting Dies of Heart Attack
The husband of Irma Garcia, a fourth grade teacher killed during the Uvalde school shooting, has died of a heart attack, two days after the massacre, according to family and multiple reports.
Joe and Irma Garcia were high school sweethearts who were married for 24 years.
A family member said in a GoFundMe that they believe Joe Garcia "died of a broken heart."
A gunman went on a rampage at Robb Elementary School on Tuesday, killing 19 children and two teachers.
The attack was the deadliest school shooting in the nation since the massacre at Sandy Hook Elementary in Newtown, Connecticut.
Irma Garcia had been teaching at Robb Elementary for 23 years, the Dallas Morning News stated. The couple leave behind four children.
The GoFundMe page has been set up for the family to cover various expenses.
https://www.ktre.com/2022/05/26/husband-teacher-killed-during-texas-school-shooting-dies-heart-attack/
Jacksonville Man Dies From Injuries Following May 12 Pedestrian Wreck
A pedestrian who was struck by a pickup on May 12 has died.
Aaron Arlon Lynch, 76, of Jacksonville, was struck by a Ford pickup on May 12 at 1:32 p.m., police say. It happened in the 1600 block of South Jackson Street.
Police say the investigation determined that the truck was traveling northbound on South Jackson. Lynch was attempting to cross South Jackson when he stepped into the path of the pickup, police report. He sustained critical injuries, and was first taken to CHRISTUS Mother Frances Jacksonville, but was immediately airlifted from Jacksonville to Tyler.
Lynch has remained in the hospital since that day, where he succumbed to his injuries, police say.
https://www.kltv.com/2022/05/26/jacksonville-man-dies-injuries-following-may-12-pedestrian-wreck/
Missing Nacogdoches County Woman Found Safe
The Nacogdoches County Sheriff's Office reports that Jcie Blake Little has been found safe.
On their Facebook page, they posted:
UPDATE: Jcie Little has been located and is safe. The sheriff's office appreciates the tips and information that led to the conclusion of this case.
The sheriff's office said the woman had been missing since Monday, when her family reported her missing, saying they were concerned for her safety.
https://www.kltv.com/2022/05/25/sheriffs-office-asks-publics-help-locating-missing-nacogdoches-county-woman/#:~:text=UPDATE%3A%20Jcie%20Little%20has%20been,were%20concerned%20for%20her%20safety.
NSU rowing team has strong season
The Northwestern State University rowing team recently concluded a successful season as its Women's Varsity 4+ team finished in the top five in the nation.
The team of Victoria Dettinger of Rochester, Minnesota, Madison Szekely of Baton Rouge, Julia Laperouse of Lafayette, Kirsten Knobloch of Kenner and Emmett Nobles of Natchitoches (coxswain) finished fifth at the  American Collegiate Rowing Association National Championships behind Lafayette College, Bowdoin College, the University of Colorado and Florida State University.
The National Championships was the first time all season the Women's Varsity 4+ finished out of the top four at a regatta. They won the Louisiana State Championships and the Texas-Kansas-LSU Tri Meet, finished second at the Head of the Colorado and the Percy Priest Sprints and fourth at the Frostbite Regatta and the SIRA Conference Championships. The fourth-place finish at the conference championship was the best since 2016.
Dettinger was named All-South Region and is a finalist for All-American which will be announced June 8. Laperouse was selected as First Team Academic All-American. Szekely and Dettinger were selected as Second Team Academic All-Americans.
NSU's Women's 2x consisting of Katriane Creel of Shreveport and Kennedie Stewart of Starks finished 14th overall.  The Men's 1x rowed by Stephen Juneau of Boyce finished 19th overall.
Other season highlights include a 12th place finish by the Men's Varsity 4+ at the conference championships (SIRA) and a berth in the  B Final.  That is the highest finish for the MV4+ since 2007.  NSU's Women's Novice 4+ finished 11th at SIRA and the Men's Novice 4+  finished 12th.
At the conference championships the members of the MV4 were Joshua Hensel of Bossier City, Ryan Johnson of Kenner, Juneau, Thomas Schneider of Bossier City, and Pretty'unje Hunter of Monroe (coxswain).  The WV4+ was Szekely, Dettinger, Laperouse, Keri Adams of Keithville and Nobles.  The WN4+ was Mikana Ikemura of Okinawa, Japan, Knobloch, Stewart, Creel and Olivia Habetz of Jennings (cox).  The MN4+ consisted of Caleb Poor of Royse City, Texas, Gage Gold of Homer, Christopher Acker of Diboll, Texas, Brody Garlington of Montgomery and Meghan Goss of Alexandria (cox).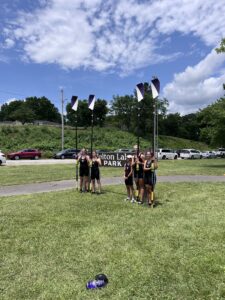 Sabine Parish Library's Summer Reading Program
The Sabine Parish Library's Summer Reading Program starts soon. "Oceans of Possibilities" will run Friday, June 3 through Friday, July 15. The schedule is as follows:
Many Main Branch – Ages 0-2, Mondays, 10 a.m.; Ages 3-4, Tuesday, 10 a.m.; Ages 5-7, Wednesdays, 10 a.m.; and Ages 8-12, Thursdays at 1 p.m.
Other library branch summer reading program schedules are Toledo Branch and Zwolle Branch – Tuesdays, 1 p.m.; and Converse Branch – Tuesdays, 2 p.m.
Summer reading programs can be an important tool in young readers' development. It encourages reading to become a lifelong habit. Often, reluctant readers are drawn in by the program activities, and reading over the summer certainly helps children keep their skills up. Kudos to the parents, caretakers and young readers who take advantage of this great opportunity.
Silsbee Doctor Named On of Six Named in Federal Lab Testing Kickback Complaint
The U.S. Department of Justice says that a Silsbee doctor is one of six Texas physicians named in a False Claims Act complaint and is accused of receiving thousands of dollars in kickbacks for their referrals for unnecessary laboratory testing.
The feds say Dr. Doyce Cartrett, Jr., of Silsbee, received over $320,000.00 from multiple laboratories for his referrals to have unnecessary medical testing performed, which was paid for with federal funds. In fact, Cartrett allegedly received the largest amount of kickback of the half-dozen doctors.
The other five physicians in Texas named in the complaint were:
Elizabeth Seymour, of Corinth; allegedly received over $280,000.00
Emanuel Paul "E.P." Descant, II, of Spring; allegedly received over $125,000.00
Frederick Brown, of Missouri City; allegedly received over $190,000.00
Heriberto Salinas, of Cleburne; allegedly received over $75,000.00
Hong Davis, of Lewisville; allegedly received over $70,000.00
The following is the full statement from the U.S. Department of Justice:
The Justice Department amended its complaint in a laboratory testing fraud case to add six physicians in Texas. The case alleges False Claims Act violations based on patient referrals in violation of the Anti-Kickback Statute and the Stark Law. The amended complaint further alleges that the six physicians caused claims to be improperly billed to federal health care programs for medically unnecessary laboratory testing.
According to the United States' complaint, the six physician defendants received thousands of dollars in kickbacks in return for their referrals of laboratory testing. The complaint alleges that laboratories True Health Diagnostics LLC (THD) and Boston Heart Diagnostics Corporation (BHD) conspired with small Texas hospitals, including Rockdale Hospital dba Little River Healthcare (LRH), to pay physicians to induce referrals to the hospitals for laboratory testing, which was then performed by THD or BHD. As alleged in the complaint, the hospitals paid a portion of their laboratory profits to recruiters, who in turn kicked back those funds to the referring physicians. The recruiters allegedly set up companies known as management service organizations (MSOs) to make payments to referring physicians that were disguised as investment returns but were actually based on, and offered in exchange for, the physicians' referrals. The complaint alleges that laboratory tests resulting from this referral scheme were billed to various federal health care programs, and that the claims not only were tainted by improper inducements but, in many cases, also involved tests that were not reasonable and necessary.
"The Department of Justice is committed to holding accountable health care providers, including physicians, who commit fraud," said Principal Deputy Assistant Attorney General Brian M. Boynton, head of the Justice Department's Civil Division. "Improper financial arrangements involving physicians and laboratories can distort physicians' medical judgments, waste taxpayer dollars and subject patients to unnecessary testing or other services."
The Anti-Kickback Statute prohibits offering, paying, soliciting or receiving remuneration to induce referrals of items or services covered by Medicare, Medicaid and other federally-funded programs. The Stark Law forbids a hospital or laboratory from billing Medicare for certain services referred by physicians that have a financial relationship with the hospital or laboratory. The Anti-Kickback Statute and the Stark Law seek to ensure that medical providers' judgments are not compromised by improper financial incentives and are instead based on the best interests of their patients.
The United States' amended complaint alleges that, in addition to the previously named defendants, the following six physicians received kickbacks from MSOs in return for their laboratory testing referrals:
Doyce Cartrett, Jr., M.D., of Silsbee, Texas, allegedly received over $320,000 from LRH and two MSOs, Ascend MSO of TX LLC (Ascend) and Eridanus MG LLC (Eridanus), in return for his referrals.
Elizabeth Seymour, M.D., of Corinth, Texas, allegedly received over $280,000 from two MSOs, Ascend and Eridanus, in return for her referrals.
Emanuel Paul "E.P." Descant, II, M.D., of Spring, Texas, allegedly received over $125,000 from two MSOs, North Houston MSO and Tomball Medical Management Inc., in return for his referrals.
Frederick Brown, M.D., of Missouri City, Texas, allegedly received over $190,000 from two MSOs, Ascend and Indus MG LLC (Indus), in return for his referrals.
Heriberto Salinas, M.D., of Cleburne, Texas, allegedly received over $75,000 from two MSOs, Ascend and Herculis MG LLC (Herculis), in return for his referrals.
Hong Davis, M.D., of Lewisville, Texas, allegedly received over $70,000 from two MSOs, Ascend and Herculis, in return for her referrals.
"Schemes that funnel health care referrals do not work without the participation of physicians," said U.S. Attorney Brit Featherston for the Eastern District of Texas. "They are not merely passive players in these elaborate schemes, but an integral part, without which the scheme could not exist. Our office is committed to rooting out health care fraud by pursuing all players involved the scheme, from the laboratories and their leaders to the marketers and the physicians who make it all possible. Naming these physicians in the complaint is evidence of that commitment."
"Patients deserve reasonable and necessary care from providers without improper motivations," said Special Agent in Charge Miranda L. Bennett of the U.S. Department of Health and Human Services Office of Inspector General (HHS-OIG). "Collaborating with our law enforcement partners, we will continue to investigate and hold accountable physicians accepting payments for referrals."
"The Department of Defense Office of Inspector General's Defense Criminal Investigative Service (DCIS) is committed to rooting out fraud schemes that waste taxpayer resources and impact mission readiness," said Acting Special Agent in Charge Gregory P. Shilling of the DCIS Southwest Field Office. "DCIS will continue to work with our partners to hold those accountable who undermine the integrity of the health care system that supports our nation's service members, retirees and their families."
The United States' amended complaint was filed in connection with a lawsuit originally filed under the qui tam or whistleblower provisions of the False Claims Act by STF LLC, whose members are Felice Gersh, M.D. and Chris Riedel. The United States intervened in the qui tam action in December 2021 and filed a complaint under the False Claims Act in January 2022 against former THD CEO Christopher Grottenthaler, former BHD CEO Susan Hertzberg, former LRH CEO Jeffrey Madison, and others. Under the False Claims Act, a private party can file an action on behalf of the United States and receive a portion of the recovery. The Act permits the United States to intervene in such lawsuits and add claims and defendants, as it has done here. The qui tam case is captioned United States, et al. ex rel. STF, LLC v. True Health Diagnostics, LLC, et al., No. 4:16-cv-547 (E.D. Tex.). If a defendant is found liable for violating the act, the United States may recover three times the amount of its losses plus applicable penalties.
This case is being handled by attorneys Christopher Terranova and Gavin Thole in the Civil Division's Commercial Litigation Branch (Fraud Section) and Assistant U.S. Attorneys James Gillingham, Adrian Garcia and Betty Young in the U.S. Attorney's Office for the Eastern District of Texas. Investigative support is being provided by HHS-OIG and DCIS. As a result of its efforts, the United States has already recovered more than $31 million relating to conduct involving BHD, THD and LRH, including False Claims Act settlements with 29 physicians, two health care executives and a laboratory company.
The United States' pursuit of this lawsuit illustrates the government's emphasis on combating health care fraud. One of the most powerful tools in this effort is the False Claims Act. Tips and complaints from all sources about potential fraud, waste, abuse and mismanagement can be reported to the Department of Health and Human Services, at 800HHSTIPS (800-447-8477).
The claims in the complaint are allegations only, and there has been no determination of liability.
https://www.kjas.com/news/local_news/article_12c1a310-dd39-11ec-bc13-9b7618584dea.html
2 Dead, 1 Injured in Collision Near Elkhart
Two people were killed and one was injured in a two-vehicle collision just outside Elkhart on Wednesday morning.
Texas Department of Public Safety troopers were dispatched to a crash 0.2 miles north of Elkhart in Anderson County. According to the preliminary report, Orlin Santos, 29, of Houston, was traveling northbound on US Highway 287 and veered into the southbound lane. Santos' vehicle then struck a vehicle head-on.
The driver of the second vehicle was taken to Palestine Regional Medical Center in stable condition. Santos and his passenger were declared dead at the scene.
https://www.kltv.com/2022/05/25/2-dead-1-injured-collision-near-elkhart/#:~:text=ANDERSON%20COUNTY%2C%20Texas%20(KLTV),of%20Elkhart%20in%20Anderson%20County.
Apollo BDay Party
Sheriff Aaron Mitchell announces May 26, 2022 at 11:00AM will be the monthly Apollo Plaza Apartments Birthdays Celebration.
Each month, the Apollo Apartment Staff hosts a party celebrating the birthdays of the children living at the complex.
The Sabine Parish Sheriff's Office, City of Many, Project Celebration Inc, Central Sabine Fire District, and other community organizations & leaders participate each month.
Anyone wishing to volunteer or contribute food, drinks, games, etc for the kids can come to the Apartment Complex tomorrow before 11AM.
Dr. Susan Dollar remembered with memorial scholarship, enhancement fund
The family of the late Dr. Susan Dollar and the Northwestern State University Foundation have created the Susan E. Dollar Endowed Scholarship in History and the Social Sciences and the Dr. Susan Dollar Program Enhancement Fund for the Cammie G. Henry Research Center. Dollar's brothers, sister, sisters-in laws, nieces and nephew and her wonderful family of NSU students and faculty undertake this hopefully memorable step with joy.
A memorial service celebrating Dollar's life will take place at 11 a.m. Saturday, June 4 at Dugdale Hall at First Presbyterian Church of Natchitoches.  She passed away in December 2021 following a lengthy illness.
"Susan absolutely loved teaching and her relationships at the university, and it nourished her for the decades she taught there. She shared that love of teaching — and her countless horribly corny jokes — enthusiastically, and the love was returned by many students and friends over her entire career," according to her brother, David Dollar.
After her parents, Jim and Katheryne Dollar, arrived in Natchitoches in the mid-1960s, all five of their children went on to graduate from NSU. Susan studied at Agnes Scott and in France before returning to Natchitoches and NSU. Upon graduation, she first taught French and English at Captain Shreve High School in Shreveport.  She returned to Northwestern for an M.A. in cultural resource management and history. Soon thereafter, she found herself digging and gigging for Texas A&M in College Station, Texas, where she earned a second M.A. in history. Somehow, the union of Louisiana and Texas led Susan to the University of Arkansas in Fayetteville where she earned a Ph.D. in history and made lifelong friends in a regional historical peer group, including work at the Clinton Library. To her and everyone's pleasure, an unsurprising return to Northwestern State's history department followed where she taught and lived for the remainder of her career.
In addition to teaching, she traveled the paths of the Underground Railroad and Freedman Bureau Schools, worked with the Association for the Preservation of Historic Natchitoches, the National Park Service, the Creole Heritage Center, the Cane River National Heritage Area, the Natchitoches Genealogy Association and many other professional organizations. She used her knowledge and love of history with hands-on research, service and love of what she did.
Susan was a lifelong member and Elder of the First Presbyterian Church, and following a lengthy illness and untimely death, per her wishes, her ashes were scattered in her much beloved Kisatchie Creek. Next time you're out in the forest, listen closely for her laughter, her family advises.
The endowed scholarship will be presented to a sophomore, junior or senior student majoring in history, anthropology or sociology, preferably to provide support for an internship in those fields. The program enhancement for the Cammie G. Henry Research Center will be administered by the head librarian/archivist for the preservation of documents and organization of archival materials related to historic preservation within the Cane River National Heritage Area.
The family wishes to thank NSU faculty/staff Jill Bankston, Dr. Kass Byrd, Dr. Mark Melder, Dr. Megan Lowe and the late Mary Linn Wernet for their considerable help and direction in our efforts.
Friends who wish to contribute to the scholarship or program enhancement fund can do so at https://northwesternstatealumni.com/dollar-scholarship/ and https://northwesternstatealumni.com/dollar-enhancement-fund/.
Photo submitted by Dollar Family, as Dr. Susan Dollar considered herself the "Queen of History."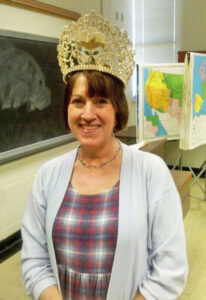 Families gather at Ft. Polk as soldiers return home after 6-month deployment
 On Wednesday, May 25, hundreds of family and friends gathered at Fort Polk and eagerly waited for their loved ones to return to the Home of Heroes.
The soldiers returning belong to the 3rd Brigade Combat Team, 10th Mountain Division, who was on a six-month deployment to the U.S. Central Command Area of Responsibility. That area includes many countries in the Middle East, Northeast Africa, and Southwest Asia.
Ceymonne Ortiz, six months pregnant, said she was highly excited about her husband returning.
"I'm so excited my baby won't stop kicking," said Ortiz. "This is our first pregnancy, we found out right after he left, and he has been telling me that he is just so excited to get here and touch the belly. I just want to touch him and hold him and make sure he is welcomed home."
218 soldiers returned and were met with applause as they marched into formation to hear a short speech from Brigadier General David S. Doyle, Fort Polk's Commanding General. Once dismissed, the soldiers were free to embrace their families and friends.
Sgt. Jesse Bailey returned home and met his son for the first time.
"There's a lot of joy, this is the first time I'm getting to see him in person. I'm very thankful that I got to come home, and I'm very proud of my wife for taking care of everything and keeping everything in order while I was gone," said Sgt. Bailey.
https://www.kalb.com/2022/05/26/families-gather-ft-polk-soldiers-return-home-after-6-month-deployment/
Hopkins County Man Arrested for Alleged Child Porn Possession
Authorities in Hopkins County have arrested a 76-year-old man in connection with allegations that "overwhelming" evidence of child pornography was found on his computer and at his home in Sulphur Springs.
James Frank Neel is currently being held in the Hopkins County Jail on a felony charge of possession and promotion of child pornography. No bond amount has been set for the charge yet.
A Hopkins County jailer said that Neel will appear in front of a judge Thursday morning.
HCSO deputies and Sulphur Springs police officers served a warrant at Neel's home on North Davis Street, according to information that was posted on the Hopkins County Sheriff's Office Facebook page on Wednesday afternoon.
"The search warrant was related to child pornography images that were found on his computer," the Facebook post stated. "During the search of the residence, overwhelming evidence was observed and recovered."
https://www.kltv.com/2022/05/25/hopkins-county-man-arrested-alleged-child-porn-possession/
Louisiana State Police Announces Recipients of Annual Awards
On Wednesday, May 25, 2022, Louisiana State Police held its annual Awards Ceremony to honor Troopers and public safety personnel from across the state for performing above and beyond the call of duty over the past three years. The ceremony was held this afternoon at the Louisiana State Police Training Academy Auditorium on Independence Blvd. in Baton Rouge. Examples of bravery, dedication, and exceptional work ethic were common themes throughout the ceremony.
Awards presented to these extraordinary individuals are as follows:
Lifesaving Award – Awarded for any act which results in saving or sustaining the life of a person:
Master Trooper Kyle Locker
Trooper First Class Jeffrey Louviere
Lt. John Jett
Sgt. Brittany Pias
Trooper First Class Brandon Melder
Trooper First Class Darren Ragland
Deputy Casey Albritton
Deputy Chris Lambert
Master Trooper Jason St. Romain
Trooper First Class Matthew Robinson
DPS Investigator Helen DeLatte
DPS Officer Shamika Rockward
MAP Supervisor Hugo Bautista
EMT Jessica Lapointe
EMT Lauren Small
Medal of Valor Award – Awarded for conspicuous and intrepid gallantry at the risk of the officer's life and the officer having knowledge of that risk:
Sgt. Douglas Pierrelee
Technician Brent Peart
Lt. Jody Blanchard (retired)
Lt. Matthew Trahan (retired)
Sgt. Travis Colombel (retired)
Service Injury Award – Awarded for significant injuries incurred while acting within the scope of official duty:
Trooper First Class Matthew Robinson
Trooper Blaine Landry
Richard Honeycutt Award – Awarded for outstanding service and dedication to duty by a Communications Officer:
Communications Specialist Tiffany Brechtel (2019)
Communications Specialist Kathy Golemon (2020)
Communications Officer 2 Trinity Domineck (2021)
DPS Officer of the Year – Awarded for consistent display of outstanding qualities that exemplify a member of the Department of Public Safety:
DPS Officer Carlos Malanez 2019
DPS Officer Bradley Osborn 2021
Plainclothes DPS Officer of the Year – Awarded for consistent display of outstanding qualities that exemplify a member of the Department of Public Safety:
DPS Investigator Anthony "Trey" Mancuso 2019
DPS Investigator Jason Gagliano 2020
DPS Investigator Craig Dabadie 2021
Plainclothes Trooper of the Year – Awarded for consistent display of outstanding qualities that exemplify a member of the Louisiana State Police:
Trooper First Class Jeffery Theriot 2019
Trooper First Class Nicholas Blake 2020
Senior Trooper Denis "Trey" Indest, III 2021
Uniformed Trooper of the Year – Awarded for consistent display of outstanding qualities that exemplify a member of the Louisiana State Police:
Trooper Nicholas Dowdle 2019
Master Trooper Erin Williams 2020
Trooper Paul Davis III 2021
Blue Max Award – Awarded for the most recovered stolen vehicles with arrests in a 12 month period:
Meritorious Service Award – Awarded for performance of duty that exceeds the normal expectations of duty and demonstrates an exceptional degree of good judgment, initiative, and competence:
Sgt. Barry Ward
Trooper Benjamin Friedmann
Sgt. (Technician) Ryan Zimmerman
Trooper Carlos Garcia
Andrew Phillips (Former Trooper)
Master Trooper Kerry Dangerfield
Master Trooper Mathew Clair
Trooper Cody Roy
Trooper Garrett Jackson
Trooper Jeffery Heriot
Trooper Nicholas Dowdle
Trooper First Class John Axsom
Master Trooper Timothy Guinn, Jr.
Trooper First Class Tyler Latiolais
Trooper Makenzie McKee
Trooper Randy Walters
Trooper Michael Starling
Communications Supervisor Sherry Smith
Communications Officer 3 Channtina Touchet
The Superintendent's Award for Excellence – awarded by the Superintendent to individuals in recognition of outstanding performance or achievement.
Special Agent Erik Woodson
Special Agent Zach O'Bryan
Louisiana State Police Investigating Deputy-Involved Shooting in Winn Parish
On May 25, 2022, shortly after 5:00 p.m. detectives assigned to the Louisiana State Police Bureau of Investigations were requested by the Winn Parish Sheriff's Office to investigate a deputy-involved shooting involving the Jackson Parish Sheriff's Office on U.S. Highway 167 near Dodson.
One subject is deceased.
This is an active investigation and further information will be released when it becomes available. Motorists should find an alternate route if traveling through the area.
Painting class set for June 9, 23
Northwestern State University's Office of Electronic and Continuing Education will offer a Pick Up Your Brush painting class on June 9 and 23 from 5:30 p.m. to 8:30 p.m. on the second floor of South Hall. The fee is $45 per session. Each class is a separate session.
In the class, participants will learn the art of painting using step-by-step instructions to create a masterpiece. Students will take home a completed painting at the end of every class. On June 9, participants will create a painting called "Beehive with flowers." On June 23, they will paint "Americana Sparklers." No special or prior skills are required. Children ages 7 – 12 years old are allowed to enroll, but a parent must accompany the child the entire class. The parent does not have to enroll unless they participate. All supplies are included.
For more information or to register for classes, go to checkout.nsula.edu or call (800) 376-2422 or (318) 357-6355.
Scammer "Spoofing" a Jasper Business Number to Make Calls
A Jasper business says a scammer is "spoofing" their company phone number to make phone calls to intended victims.
'Spoofing' is the act of making it appear on your cell phone or caller ID that you're receiving a call from a local telephone number, when in reality the scammer could be somewhere on the other side of the planet.
In this case, John Ringo of Advanced Automotive says a scammer is spoofing the business phone number, which is 409-384-6528.
Ringo said he has received calls from local residents letting him know that this is happening, and he says the scammer claims that they are notifying their would-be victim of fraudulent activity on their bank or credit card account. The scammer then requests all of the account information, which in turn allows them access to the victim's money.
Law enforcement has repeatedly warned citizens to never give out personal information to anyone who calls you, and to instead just hang up.
https://www.kjas.com/news/local_news/article_2a9d25e0-dc7b-11ec-8a6b-b72d321a7b93.html
St. Tammany Deputy Shot on Burglary Call, 13-Year-Old Suspect in Custody
A St. Tammany Parish deputy was shot and wounded by an armed 13-year-old burglary suspect, Sheriff Randy Smith said early Wednesday (May 25). The agency said the young suspect is in custody.
In connection with the shooting of a St. Tammany Parish Sheriff's deputy and the burglary of a local area business, a 13-year-old Waldheim area male has been arrested and booked into the Florida Parishes Juvenile Detention Center on the following charges:
L.R.S. 14:27/30 Attempted First Degree Murder
L.R.S. 14:108.2 Resisting a Police Officer with Force or Violence
L.R.S. 14:108 Resisting an Officer
L.R.S. 14:34.2 B(3) Battery of a Police Officer, Injury Medical Attention
L.R.S. 14:62/I Simple Burglary
L.R.S. 14:95.8 Illegal Possession of a Handgun by a Juvenile
L.R.S. 14:69 Illegal Possession of Stolen Goods
Smith told Fox 8 that Deputy Kenneth Doby was shot as he and another deputy wrestled the suspect to the ground on the side of a road, after spotting him walking away from Backroads Mercantile, a grocery store near the intersection of state highways 21 and 1083 in Waldheim that had been burglarized around 3 a.m.
While effecting the arrest, Doby was shot once, "beneath the back of his bullet-proof vest," Smith said. The four-year veteran of the St. Tammany agency continued assisting his partner with handcuffing the teen even after being shot, then was taken to Lakeview Regional Medical Center in Covington for emergency treatment.
"Right now, it looks like he's going to have a full recovery," Smith said. "We're very lucky. … We're just thankful he's going to be OK, because it could've been a lot worse."
Doby joined the St. Tammany Parish Sheriff's Office in 2018, Smith said, after starting his law enforcement career in the sheriff's offices of Tangipahoa and Washington parishes.
With St. Tammany, Doby was named "Deputy of the Quarter" in January 2020. A social media post said Doby "comes to work enthusiastic and demonstrates an exemplary work ethic. He faithfully handles his calls for service and is always willing to assist a teammate if needed. … His supervisors said he is the epitome of the definition of 'hustle,' and he understands and appreciates a team concept and seeks out the advice from experienced deputies."
The post also mentioned Doby had an unspecified military background, which the agency said "has played a significant role in contributing to his polite, professional manner when interacting with citizens."
https://www.kplctv.com/2022/05/25/st-tammany-deputy-shot-burglary-call-13-year-old-suspect-custody-sheriff-says/
Stepped Up Police Presence at Local Schools in Wake of Uvalde School Massacre
Jasper ISD Superintendent John Seybold announced Wednesday morning that there would be a stepped-up police presence for the last two days of the school year at all Jasper campuses in response to the Tuesday mass shooting at a Uvalde elementary school which left nineteen students and two teachers dead.
School officials have said there is no evidence or information regarding a threat to our schools, but is instead the measure is meant to give peace of mind to students, staff, and parents who are experiencing shock and sadness, as is the entire nation.
Thursday is the last day of school, and Jasper High School Graduation will be Friday night, 7:30, in the football stadium.
Also on Wednesday, Tyler County Sheriff Bryan Weatherford announced an increase of law enforcement presence at all Tyler County Schools, including graduation ceremonies.
The following is the complete statement on the Jasper ISD Facebook page:
Jasper ISD will have extra police presence surrounding our campuses over these last few days of school. Please do not be alarmed if you see more officers than normal. We are taking extra steps of caution for the peace of mind and for the safety of our students and staff.
We would also like to thank the Jasper Police Department, the Jasper Sheriff's Department, DPS, local volunteer fire departments and all first responders who work with us diligently on our safety and response plans.
Please continue to keep the Uvalde community in your prayers.
https://www.kjas.com/news/local_news/article_089300da-dc41-11ec-8c99-47e377f981e6.html
1
2
3
11
101
178
Next ›
Last »